Your heels were made for walking, but your favorites wear out quickly. High heels are a fashion staple but each step wears out the tips. Save yourself the time and money -- and hassle of getting to the shoe shop before closing time -- by replacing your heel tips at home. The process is relatively simple and extends your favorite pair of heels so you can walk in them for years to come.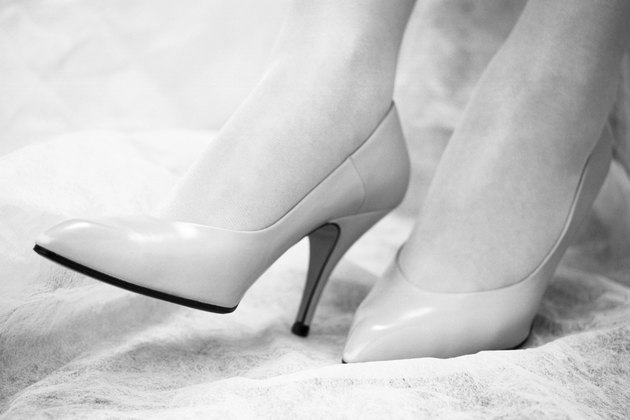 Fix the Bottom of High Heels
Step 1
Flip over the pair of heels and measure the height of the heel tip. You can find a chart of corresponding replacement heel tip sizes online. Based on the shape and size of the heel tip, buy replacement heel tips at online retailers, cobbler shops or in the shoe department at most supermarket stores. If you cannot figure out the exact size of your heel tip, most brands of replacements should be able to fit one size up or down.
Step 2
Using a pair of pliers, remove the old heel tips by lightly twisting and wriggling until the old heel tips pop out.
Step 3
Sand down the shoe with sandpaper if the heel is uneven or holds remnants of glue or other material. Once the old tip is out, align the nail of the new tip with the hole on your shoe.
Step 4
Use a hammer to push the new tip into place by using a light tapping action. Once the tip is fully secure, repeat the process with the other shoe.
Things You'll Need
Pliers

Pair of heel tips

Hammer

Sandpaper (optional)

Masking tape (optional)

Paint to cover heel damage (optional)
Tip
Hide any visible signs of wear and tear after you remove the old heel tip by applying flat paint that matches the shoe color to the bottom of the heels before inserting the replacement heel tip.
The original heel tip may be too hard to remove. You may need to twist, turn or try other ways to jiggle it out. If that doesn't work, cut about 1 mm of the heel off with a knife so that you expose more of the pin.
Warning
Tools like pliers and the hammer can be very damaging to delicate heels, especially once you apply force. Covering your tools with masking tape before touching the heels to avoid putting scratches or cuts onto your shoes.