Looking for an impressive outfit for a lunch date and beyond? Whether lunching during a work break or meeting on a leisurely day off, the objective is the same -- present an honest style statement with your comfort in mind. Struggling with uncomfortable underwear or a coping with a constrictive dress skirt can keep your mind off the important things, like getting to know your date. For a lunch date, you should look attractive without appearing overtly sexy.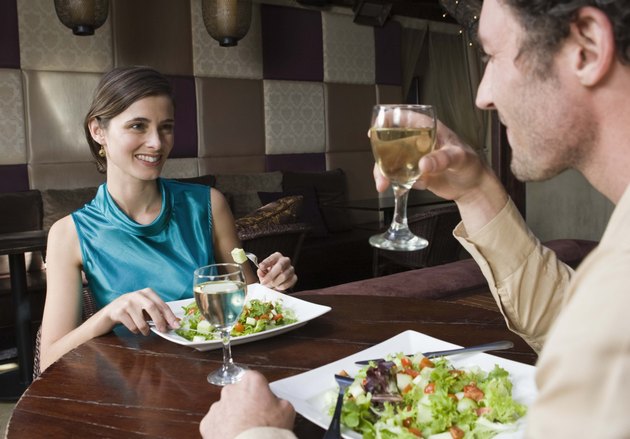 Suggestions for Women
Step 1
Wear a fun dress like a sheath or shift dress. Unlike a skirt, you don't have to worry about a dress hiking up or resting unevenly on your hips. A basic dress plus a few pieces of jewelry or a flattering belt looks trendy and impressive. A knee-length dress is appropriate for a casual or dressy lunch.
Step 2
Choose jewelry suitable for daytime like a cuff bracelet or small dangling earrings. Don't wear too much jewelry. Avoid wearing club attire like large hoop or chandelier style earrings or a dozen clinking bracelets. For a lunch date, dressy casual is a good guideline to follow.
Step 3
Pair your dress with a fitted jacket or shrug. Removing your jacket once he arrives is an impressive power move that suggests you're in to him.
Step 4
Wear comfortable shoes like cute flats or a wedge with a low heel. Pay attention to your toe nails if you wear peek-a-boo shoes. Small details count. Finish your outfit with a light spritz of perfume. Do not go overboard with the scent though; many people have allergies.
Suggestions for Men
Step 1
Select a pair of flat-front dress pants for the date. Stick with dark colors like navy blue, black or gray. Khaki pants also make a good choice for a daytime date.
Step 2
Wear a V-neck shirt tucked into your pants. V-necks elongate the neck and make men look taller, more masculine. Choose a color that complements your slacks, like black, heather gray or light blue. If you prefer, wear a neat polo shirt with tan khakis.
Step 3
Slide a thin black belt around your waist. Avoid over-tightening your belt. You want to be comfortable for your lunch date. If wearing brown pants, wear a leather belt.
Step 4
Select shoes to match your shirt/pants combination. Loafers, boat shoes or even dress shoes are appropriate for a lunch date. Unless you are dining beach side, avoid wearing sandals or flip flops to your date. Finish your outfit with a single spray of your signature cologne.
Things You'll Need
Dress

Bracelet

Dangling earrings

Fitted jacket or shrug

Flats or wedge shoes

Perfume

Slacks

V-neck shirt

Polo shirt

Belt

Dress shoes

Cologne
Tip
Wear something familiar that boosts your confidence.
An outfit that fits well and flatters your figure is better than an expensive, name brand dress or suit that does not.