According to a 2011 NPD food market research study, 31 million Americans (one in 10!) skip breakfast. And more men than women are skipping their morning meal. Twenty-eight percent of men between the ages of 18-34 don't eat before 11a.m. One of the top reasons people gave for skipping breakfast was, "they didn't have time and were too busy."
I get it! I'm busy too, and I don't have a lot of free time in my mornings. I want a fast, high-protein meal that will keep me feeling full (and that preferably doesn't dirty any pans or dishes).
For breakfast I generally eat eggs or protein shakes, but now that the mornings are getting a little cooler, I start craving warm muffins in fall flavors. I tend to avoid grains and I'm notoriously obsessed with pumpkin, so I created my 260-Calorie 2-Minute Gluten-Free Paleo Pumpkin Microwave Muffins. They're so easy and so yummy. And did I mention that they are gluten-free and Paleo?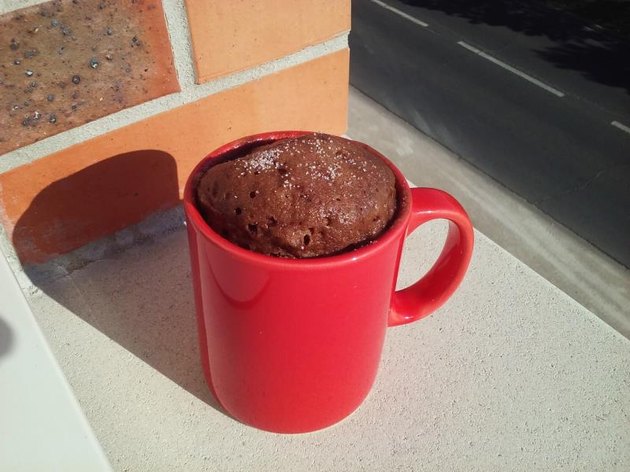 260-Calorie 2-Minute Paleo Pumpkin Microwave Muffins
Calories: 260 calories
Fat: 17 grams
Carbs: 22 grams
Protein: 11 grams
Ingredients
1 egg
- 1/3 cup pumpkin puree
- 3 tablespoon ground flaxseed meal
- 1 1/2 teaspoon honey
- 1 teaspoon coconut oil
- 1/2 teaspoon pumpkin pie spice (dash each of cinnamon, nutmeg, ginger, cloves)
Directions
1. Break egg into large microwave-safe coffee mug. Gently beat with fork.
2. Mix in pumpkin puree, honey, coconut oil, pumpkin pie spice, and flaxseed meal.
3. Microwave on high for two minutes, but watch to make sure your muffin doesn't rise over the top of your mug.
4. Either eat your muffin out of the mug, or flip it over on a small plate and sprinkle some extra cinnamon on top.
Readers — Will you try this muffin recipe? What are your favorite pumpkin recipes? Leave a comment below and let us know.