Lady Gaga nearly overloaded Twitter on Super Bowl Sunday when comments from social-media users flooded the site. During her 12-minute performance, fans gave a play-by-play, commenting on her dazzling costumes, stage makeup and overall badassery. But, sadly, there was also a flood of negative Tweets that were sent by viewers who were troubled by the tiniest protrusion of Gaga's stomach.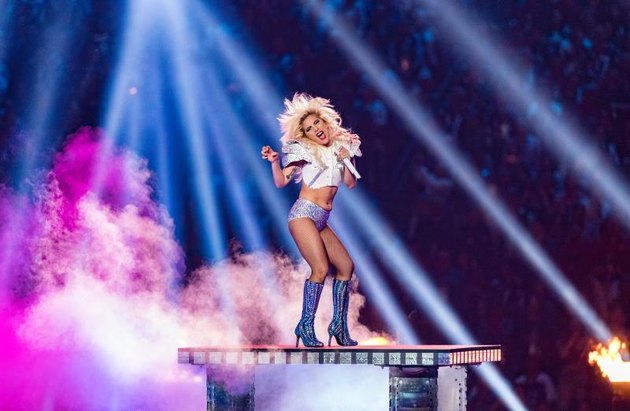 The unapologetic Gaga has never cared about what people have to say about her looks. But that doesn't mean that it's OK to shame a fellow human being for not being perfect. But it's not just that these comments were unfounded (considering the singer looks basically perfect), they also disregard how physically fit Gaga actually is.
Not only did she repel from the ceiling, but she also killed a fierce choreographed dance routine that was seriously calorie crushing. In other words, the singer is the picture of fitness.
Gaga proved just how seriously she is committed to fitness by squeezing in a quick preshow workout on her TRX bands. The 30-year-old posted a photo of her working on her arms and core on social media in preparation for her high-intensity performance. Not even her Versace ensemble was enough to stop Mother Monster from hitting the TRX for some body-weight resistance exercises. And if that's not commitment, we don't know what is.
Fat shamers must have expected for the internet to laugh and join in on the mockery, but what they accidentally incited was a movement from women — fans and otherwise — who started tweeting how much Gaga's stomach looked like their own. Many praised her for not having rock-hard abs while still being fit — showing the world that women do not need to have the perfect body in order to be happy, strong and in shape.
Fortunately, when you know you slay like Gaga does, the haters can't keep you down. Gaga proved just how strong she is when she took to Twitter on Monday morning to announce the "Joanne World Tour" set to kick off on August 1 in Vancouver — not paying the incident any mind or addressing even one hater. Shutdown successful.
We're thinking that the next time these shamers are having a bad day and feel the need to insult another human being (famous or otherwise), they should read this quote from Gaga instead: "Kindness to me is an action of love or a showing of love to someone else. I also believe that kindness is the cure to violence and hatred around the world."
While Lady Gaga originally declined to show the haters any mind Gaga took to Instagram Tuesday night to fire back at those who were looking put her down for her body. But instead of telling them off, Gaga took the opportunity to encourage others to be proud of their bodies as she is of hers. Get it, girl!
Rosy Cordero is an entertainment and lifestyle writer based in Los Angeles. She has nearly 10 years covering celebrities and has been published in Variety Magazine, Latina Magazine, Variety Latino, Vice, Teen Vogue and NBC. When Rosy is not busy working the red carpet, she's hot on the trail of her next exclusive.
What Do YOU Think?
Do you think that you need to have a perfect body to be fit? How do you measure your own fitness level? What are you favorite exercises. Do you use TRX bands? Let us know in the comments.