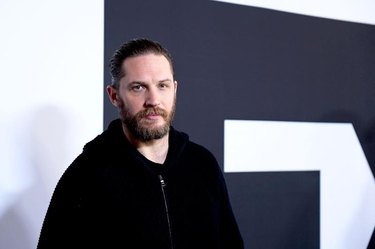 Tom Hardy just proved to the world he's a hero on and off screen. Over the weekend, the "Mad Max" star showed off his physical prowess when he heroically took down a bike thief on the streets of London — and the details read like the script of one of his blockbusters.
Hardy was allegedly out minding his own business on Sunday when he came across two 16-year-olds stealing a motorbike. According to witnesses, the actor saw the teens crash the bike into a car in London and then flee the scene. One thief was stopped by a police officer and the other was chased by Mad Max himself, who allegedly "vaulted walls" — Parkour-style — during the intense pursuit.
"It was mental — like he'd switched to superhero mode in an action movie," onlooker Arun Pullen told The Sun. "He went off like a shot in pursuit and looked furious. I asked Tom what happened, and he told me he chased him through my back garden and caught him around the block — but the route was like an assault course." Pullen said that the bike thief "looked wrecked and in shock" after Tom took him down. Can you blame the kid?
Both teens were arrested on suspicion of theft and taking a vehicle without consent and remain in police custody. "We can confirm that there were two people on a stolen moped that went through a red light and crashed into another vehicle," a Richmond police spokesman told the BBC. "The males ran off and one was detained by Tom Hardy. Both suspects were initially taken to hospital with non-life-threatening injuries."
Hardy is clearly one of the most physically fit actors in Hollywood and has received an abundance of training for his various butt-kicking movie roles, so it isn't too surprising he was able to nab a bad guy in real life.
Hardy went through intense weight training to prepare for his role in "The Dark Knight Rises" and for his role as an MMA fighter in "Warrior," the actor trained in kickboxing, boxing and muay thai. And how can we forget Tom in "Mad Max: Fury Road"? To play the lead character, Hardy shed a ton of weight and maintained a super-lean body while fight training seven days a week for more than three months.
Note to bad guys everywhere: The next time you decide to break the law, make sure Tom Hardy isn't around to wreck you.