Breast development often marks the beginning of puberty, and for many young girls and their parents, it can come as a bit of a surprise. Breast development in puberty may begin as early as 6 years of age. For girls in the United States, the entire breast development process generally occurs between about 8 to 13 years of age, according to "Gender Differences at Puberty." Growth of the breasts can be described in steps, called Tanner stages, ranging from stage 1, representing no pubertal development, to stage 5 -- the fully developed, mature breast.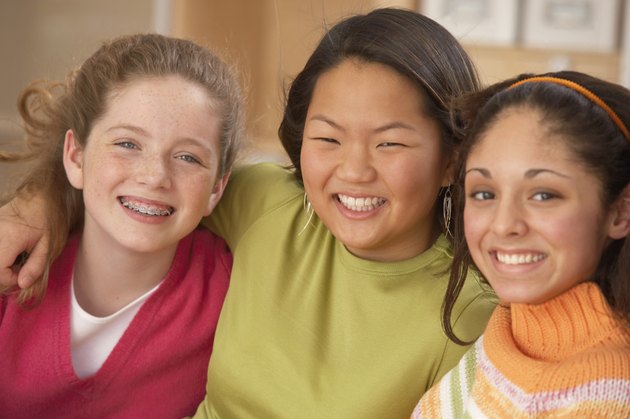 Stage 1, Stage 2 - Breast Buds
Stage 1 refers to the normal breast appearance prior to puberty -- that is, the presence of just a slightly raised nipple. With stage 2 comes breast budding, or elevation of the breast and nipple from the chest -- the first sign of puberty in 90 percent of girls, according to an August 2014 article in "BMC Womens Health." True breast buds -- as opposed to body fat distributed to the breasts -- first form as tender, firm lumps in the areas just under the nipples, each typically no larger than a quarter. On average, Stage 2 breast development occurs between about 8 and 10 years of age, according to a December 2013 study in "Pediatrics."
Stage 3 - Enlargement
While the ring of color around the center of the nipple -- called the areola -- may begin to widen in stage 2, further enlargement of the breast and areola occurs in stage 3. Breasts take on a conelike shape, and the areola may both enlarge and darken. At this point, the tissues of the breast and the internal duct system are developing, and the breast itself is growing. It's normal for one breast to be larger than the other during initial growth. Breast size usually becomes more equal in a year or so. Stage 3 occurs at an average age of about 12, according to a January 2014 report in "Annals of Human Biology."
Stage 4 - Areola Mounds
Stage 4 marks another period of growth. During this phase, the areola rises up from the rest of the breast to form a secondary mound. The nipple sits atop this mound. Tanner stage 4 generally occurs about 6 months after stage 3, according to the January 2014 "Annals of Human Biology" report. This is around the same time that menstruation begins -- at about 12 and 13 years of age.
Stage 5 - Mature Breasts
At stage 5, the breast is considered fully developed and mature, with progression from the conical shape seen in stage 3 to a more rounded, mature shape. In some girls and women, the areola continues to form a secondary mound. In others, the areola becomes flat against the breast and only the nipple protrudes. Most girls reach stage 5 sometime between 12 to 14 years of age but the timing is quite variable. Despite reported averages and age ranges, it is important to remember that breast development occurs at a rate unique to each girl and can vary greatly among girls.