People who have dandruff can be more likely to develop acne, according to the University of Michigan Health Services. The dry skin flakes that are often the most salient symptom of dandruff can clog pores, causing pimples to form on your face and body. If you're already acne-prone, dandruff can make the problem even worse. To clear up your skin, you'll need to target active breakouts and treat the dandruff that's causing them so that they don't flare back up.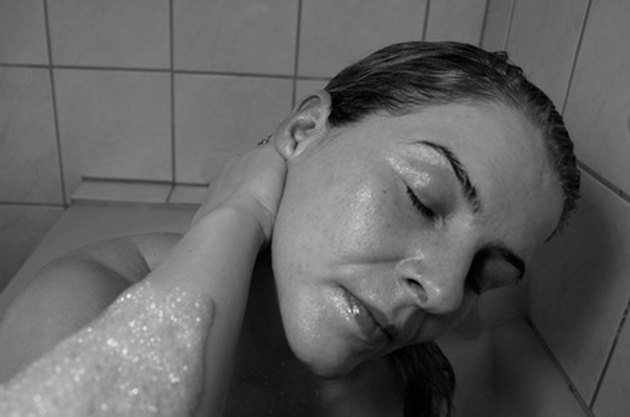 Step 1
Use an anti-dandruff shampoo every time you wash your hair. Marianne O'Donoghue, M.D., associate professor of dermatology at Rush-Presbyterian-St. Luke's Medical Center in Chicago, recommends that her patients apply anti-dandruff shampoo on their scalp and face when they shower to decrease oiliness and irritation.
Step 2
Keep your hair off your face as much as you can, since hair rubbing against your skin can exacerbate acne breakouts. If you have bangs, brush them back or pull them back with a barrette, or pull long hair back in a braid or ponytail.
Step 3
Wash your face with a gentle cleanser once or twice a day. Opt for a water-based cleanser that doesn't contain oil. Don't be tempted to wash more frequently--doing so can make your breakouts worse, according to the Mayo Clinic.
Step 4
Dab a little cream with benzoyl peroxide or salicylic acid directly onto active breakouts to dry pimples and help them heal faster.
Things You'll Need
Anti-dandruff shampoo

Gentle cleanser

Acne cream with benzoyl peroxide or salicylic acid
Tips
When you're using anti-dandruff shampoo, the University of Michigan Health Services recommends lathering your hair twice and leaving the second lather on your hair for five minutes before rinsing it out to get the best results from your anti-dandruff shampoo.
Warning
For some women, the sudden appearance of acne and dandruff together can be a symptom of polycystic ovary syndrome, or PCOS, a serious health condition that affects more than one in 20 women in the United States of childbearing age, according to the National Women's Health Information Center.
Is This an Emergency?
If you are experiencing serious medical symptoms, seek emergency treatment immediately.