Years of sun worship gave you a deep-golden tan that was the envy of island vacationers. The downside is that it also left you with spots, freckles and a crepey skin texture. This sun damage is often most noticeable on the chest and can really show your age. While a complete reversal of the sun damage is unrealistic, some techniques will lessen the appearance. A little TLC, and soon your skin will have a natural healthy glow instead of a leather-like sheen.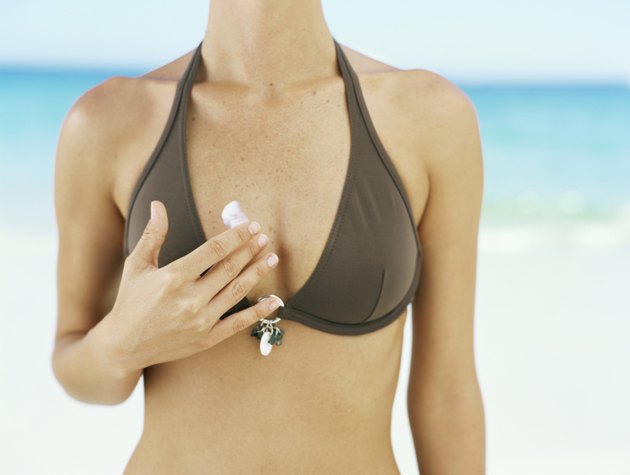 Step 1
Exfoliate the skin on your chest once per day using a face or body wash containing 5- to 8-percent solution of glycolic acid. Glycolic acid is a mild chemical that dissolves dead skin cells and speeds cell turnover.
Step 2
Rub an anti-aging cream containing antioxidants thoroughly over the sun-damaged area once a day. Look for antioxidants such as retinol or vitamin C which rebuild collagen and reverse the ultra-violet damage to your skin cells. These products are both readily available at drug stores and mass market retailers.
Step 3
Apply a broad-spectrum sunscreen to your chest area daily, even when it is cloudy outside. Opt for a sunscreen containing 5- to 10-percent zinc or titanium, or 3-percent mexoryl, according to Dr. Brandith Irwin at Skin Tour.
Things You'll Need
Face or body wash containing glycolic acid

Anti-aging cream containing retinol or vitamin C

Broad-spectrum sunscreen with zinc, titanium or mexoryl
Tips
If your skin does not respond to these treatments, or you want more dramatic results, visit a dermatologist who can perform laser peels, microdermabrasion and other office procedures to reverse the sun damage.
Is This an Emergency?
If you are experiencing serious medical symptoms, seek emergency treatment immediately.