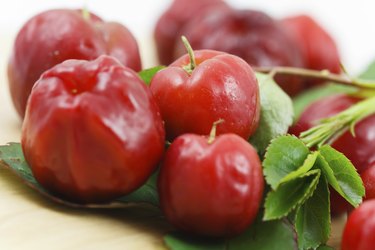 Acerola cherries provide more vitamin C than all other food sources, according to the U.S. Department of Agriculture. Acerola juice is such a rich source that MedlinePlus warns against drinking the juice if you also take vitamin C supplements. Whether you know them as acerola cherries or by one of their other names, such as Barbados cherry and West Indian Cherry, chances are you'll only find them as supplements or in juices because the fresh fruit is highly perishable.
Basics About Acerola Cherries
Evergreen acerola trees thrive in the warm climates of South America, Central America, California, Texas and Florida. Fruits from the tree mature to a diameter of 0.5 to 1 inch and develop into bright red cherries. The cherries deteriorate rapidly after they're picked, with unappealing changes noticeable within 4 hours after they're harvested. They ferment quickly and become unusable within 3 to 5 days. When frozen, they tend to fall apart as they thaw, so they're best used in jams, syrups and juices.
Low Calorie and Fat Free
A 1-cup serving of raw acerola cherries has 31 fat-free calories, 7.5 grams of total carbohydrates and 1 gram of fiber. The U.S. Department of Agriculture does not report the sugar content of raw acerola cherries. However, a 1-cup serving of raw acerola juice contains 11 grams of sugar, so almost all of the juice's 12 grams of total carbs come from natural sugars. One cup of the juice has 56 calories and retains almost 1 gram of fiber.
Best Source of Vitamin C
Fresh acerola juice contains 13 times more vitamin C than an equal portion of orange juice. You'll get 1,644 milligrams of vitamin C from 1 cup of fresh fruit and 3,872 milligrams from 1 cup of juice. These values far exceed the recommended daily allowance of 75 milligrams for women and 90 milligrams for men. It's rare to experience side effects from getting too much vitamin C, although common problems such as diarrhea, nausea and cramps may arise, according to the Office of Dietary Supplements. Taking large amounts in supplements may increase your risk of developing kidney stones. To avoid potential health problems, adults should not consume more than 2,000 milligrams daily, the Office of Dietary supplements cautions.
More Nutrients
Enjoy 1 cup of acerola juice and you'll gain 1,232 international units of vitamin A, mostly in the form of beta-carotene. The same portion of fresh berries has about half that amount. The juice is also a good source of iron, while both the juice and fruit have small amounts of potassium, magnesium and folate. If you can find the fresh fruit, acerola cherries contain flavonoids, which have antioxidant qualities. Unfortunately, most of the flavonoids are lost when the cherries are processed into juice, according to a report published in the June 2009 issue of the "Journal of Food Composition and Analysis."