The inner and outer thighs can be a frustrating problem area for women. Although the best exercises differ for everybody, you can tone up thighs with specific exercises as part of an overall fitness routine. The key is to stay consistent with your workouts and do a combination of cardio for fat-loss with strength training for muscle-building benefits. You will also need to eat a healthy diet that is low in calories to assist in weight-loss all over the body including the thighs.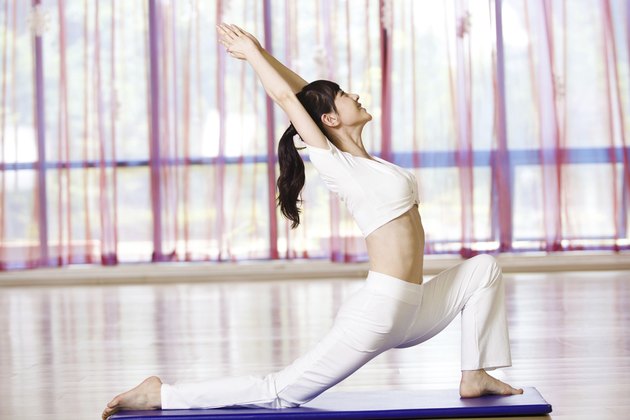 Squat & Step
Lateral band step-outs target the outer thighs as well as the gluteal muscles, or buttocks. Do this exercise by putting a resistance band around your legs just below your knees. Standing with feet hip-width, lower down into a mini squat, roughly halfway down. Step to the left as far as you can with your left leg pushing down through the heel of your foot. Your right leg should then step to the left such that feet are hip-width apart again. Continue this stepping pattern approximately 20 times in the left direction before switching to step to the right.
Just Like Jane Fonda
Side-lying leg lifts in the side-kick series are a pilates-based exercise that specifically target the inner thighs. Start this exercise by lying on your left side with your bottom leg stretched out on the floor and your top leg crossed over it such that the hip and knee is bent at a 90 degree angle. Rest your head in the hand of your left arm or rest it on your left arm on the floor. Lift your bottom leg up as you exhale, then lower on the inhalation. Your back and the trunk of your body should stay in a straight line to ensure you are isolating the inner thigh muscles. Repeat 15 times before switching sides to repeat with the opposite leg.
Outer Leg Lifts
The outer thighs can also be developed during a side-lying leg lift in the side-kick series. Lie on your left side with legs stretched out below you and stacked on top of each other. Keep your abdominal muscles engaged and back straight to avoid tipping forward or backwards. Hold your head in your left hand for support. Exhale as you lift your top leg up towards the ceiling five to 10 inches. Hold for three counts before returning to start position. Repeat 10 to 15 times, then switch sides to do the opposite thigh.
Burn Them Off
Cardiovascular exercise is a must if you are looking to slim down and tone up your thighs. Cardio raises the heart rate, elevates the metabolism and increases caloric burn for weight-loss all over the body including the thighs. You must lose the fat on the inner and outer thighs in order to see any muscle definition. Do cardio exercise five times per week for 45 minute sessions at a moderate pace in which you can carry on a conversation. Throw in some high-intensity intervals twice a week in which you sprint, cycle or walk at an all-out pace for 30 seconds followed by two minutes of rest. Repeat the interval five to 10 times to increase caloric burn even after you've finished exercising.