Got metal? If you're part of the fast-growing body-piercing trend, there's a good chance you have a few barbells, hoops or studs taking up residence on your skin and cartilage.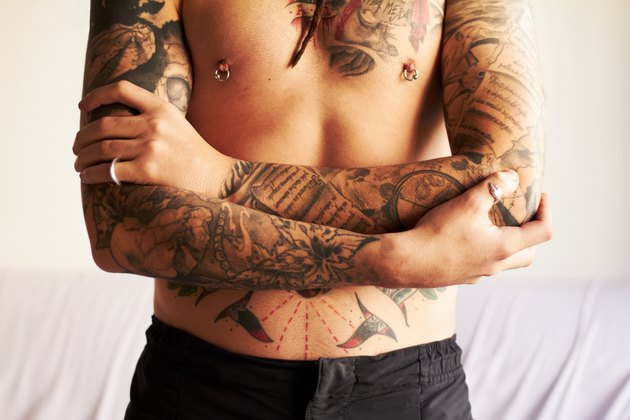 With everything from ears and facial piercings to genital, navel and nipple piercings, the places on your body that you can poke holes in are pretty much endless. But one area that seems to be gaining piercing popularity and losing its taboo status is the nipple.
Risks of Getting Your Nipple Pierced
While the art of body piercing is not new, the increase in popularity is. That's why more doctors and piercing experts are sharing the risks associated with this form of body art. A 1999 review from the Journal of General Internal Medicine found that these were the most common complications with nipple piercings:
Redness and swelling

Drainage

Infection

Bleeding

Cyst formation

Large scars

Trauma or tear
Tips If You Plan to Get Your Nipple Pierced
Now that you know the risks, are you still game to get your nipple pierced? If so, there are things you can do to ensure that you have a safe, healthy and enjoyable experience.
Do your research on your options for piercing. Look for a business that's reputable and has a license to perform the procedure. If you're not sure, ask.
Check the facility for cleanliness. Janet Prystowsky, M.D., a board-certified dermatologist based in New York City, says to make sure the room is clean and that all the instruments are sterile (again, don't be afraid to ask what their sterilization practices are).
Ensure that the person doing the procedure washes his or her hands and wears new, sterile gloves. Dr. Prystowsky says the jewelry should also be new and sterilized.
Be aware that the nipples are an area with a high density of nerve endings, says Donna Hart, M.D., dermatologist with Westlake Dermatology & Cosmetic Surgery in Austin, Texas. So piercing this area can be more painful than other areas of the skin.
Make sure the jewelry you're choosing will work for your body. "Nickel is a common allergen found in many metal alloys," says Dr. Hart. Because of this, Dr. Hart suggests sticking to posts made of surgical steel, titanium, platinum or nickel-free gold.
Nipple Piercing Aftercare Instructions
After the procedure, Dr. Prystowsky says you'll want to keep the area dry, avoid touching it and wear loose clothing that doesn't rub up against it. She also says to avoid swimming until the site is fully healed.
To clean the piercing site, wash your hands thoroughly with soap and warm water, and then use a saline solution and cotton swab or cotton ball to gently clean the area, carefully removing any crusts that form.
Be prepared for a lengthy healing process. "The nipples can take nine to 12 months to fully heal after piercing," says Dr. Hart. But the hole can close up within minutes to days after removal. That is why Dr. Shainhouse says it's best to have the first jewelry changing performed by the piercing salon.
When to See a Doctor
Redness and swelling

Area is hot to the touch

Fever
Rash

Odor

Body aches

Green, yellow or brown discharge

Fatigue
If the area is painful or you're not sure if the piercing is healing properly, see a doctor immediately.