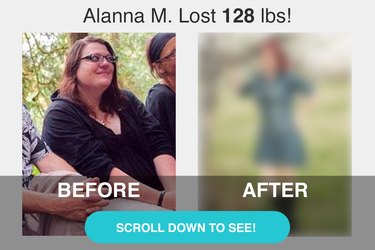 LIVE**STRONG**.COM Username: Alannajmay LIVESTRONG.COM Member since: 5/8/2017
BEFORE Weight: 263 pounds Dress/Pant Size: 18/20
AFTER Weight: 135 pounds Dress/Pant Size: 4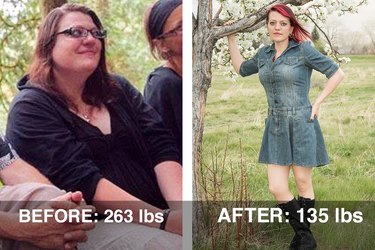 LIVESTRONG.COM: What was your life like before joining LIVESTRONG.COM?
I was always overweight, but my turning point happened in 2015. I had a daughter who passed away when she was just 18 days old. When that happened it completely shook my world, and I just lost myself. I fell in to a massive depression, I barely got out of bed and I ate in an attempt to make myself feel better. I stopped caring about my life, and I didn't care what I looked like. For many months, I was just really sad, lethargic and apathetic. The weight just started piling on. About six or seven months after my daughter passed away, I saw my doctor and weighed in at 263 pounds. It was the highest weight I had ever been. I couldn't believe I had let myself get so bad. It was devastating.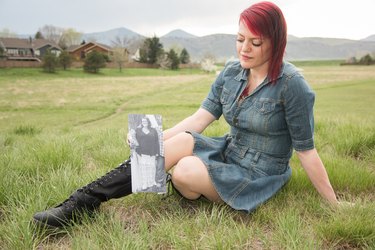 LIVESTRONG.COM: What was your inspiration for making a change?
I knew that more than anything I wanted to have another baby, but I also knew that my health had gotten so bad that I had to make a change first. I had to start taking care of myself before I could properly take care of a baby. I started being more careful about what I ate, but I wasn't actively dieting.
About three months after I hit my highest weight, I went back to the doctor and found out I was pregnant again. At that point, I weighed 230 pounds. I made it through my pregnancy without gaining any weight, and weighed 230 pounds just before I gave birth. After my daughter was born, I started eating poorly again and was back to gaining weight. My husband was the final push I needed. He found the MyPlate calorie tracker and started using it. I wasn't fully on board at first, but after using it for about a week and realizing how easy it was, I completely committed myself to getting healthy.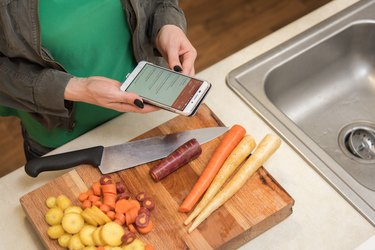 LIVESTRONG.COM: How did LIVESTRONG.COM help you lose weight?
I'm so glad I found LIVESTRONG.COM! I would have never come as far as I did without it. I used MyPlate to lose almost all of my weight — it helped me immensely. Tracking my calories made weight-loss extremely easy for me and took all of the guesswork out of it. I also use MyPlate to track my macro- and micronutrients, which I have found to be very helpful.
The LIVESTRONG.COM community has been a blessing to me. They are an amazing, kind, knowledgeable group of people, and some of them will be lifelong friends. They have always guided me in the right direction and taught me about nutrition and fitness. They have cheered me on and helped me get back on track when I haven't done as well. They have pushed me to do better and made me realize I can go much further than I ever expected. Overall, it took me a little less than two years to lose 128 pounds.
LIVESTRONG.COM: What was your support system like?
I am lucky enough to have a really good support system. My husband is first and foremost. He has been on this journey to get healthy with me, and I never would've started if it weren't for his initial push. My mom has also been extremely supportive and helpful all the way through. She has been there to encourage me and offer me advice. The LIVESTRONG.COM community has also been a big support system for me. I'm very thankful to everyone there.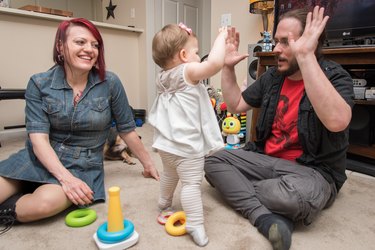 LIVESTRONG.COM: What's your favorite way to work out?
I started exercising by just walking every day with my daughter in her stroller. I walked around five miles a day, everyday, rain or shine. After several months of that, I decided to begin strength training. I got a gym membership and weights for home and started lifting. Lifting weights is now one of my favorite things to do, and I do a mix of gym and home workouts. I also still walk a lot with my daughter and run on the treadmill.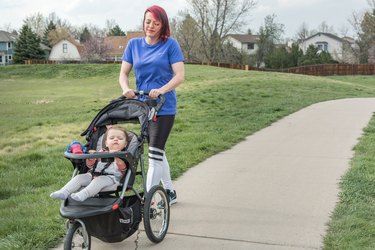 LIVESTRONG.COM: What's your weekly exercise schedule?
Monday and Tuesday are my gym days. I spend a couple of hours there, split between cardio and lifting weights. Wednesday, Thursday and Friday I do a program from home called Strong Curves, and I try to do some form of cardio. Saturday, I am back in the gym for cardio and lifting. Sunday, I rest and stretch.
LIVESTRONG.COM: What's a typical day of meals and snacks?
I currently practice intermittent fasting, which means I only eat in an eight hour window every day. I find this helps control my appetite and benefits my metabolism. I generally eat two meals and a snack every day. The most beneficial thing for me has been to "JERF" — just eat real food. I stick to simple foods like meat, vegetables, eggs, cheese, nuts, etc. I try to avoid processed food, sugar and simple carbs.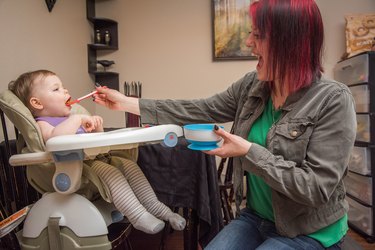 LIVESTRONG.COM: What's the range of calories you eat per day?
When I was losing weight I ate around 1,500 calories per day. Now that I am maintaining, I eat anywhere from 1,800 to 2,500 calories per day, depending on how much I have been working out.
LIVESTRONG.COM: What are the healthy staples that are always in your kitchen?
The staples I always keep on hand that have gotten me through this include almonds, avocados, spinach, broccoli, Brussels sprouts, meat, eggs, fish, shrimp, high fiber wraps, sparkling water and coffee!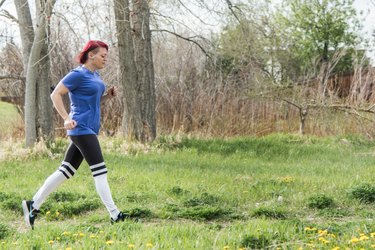 LIVESTRONG.COM: How do you strategize for meals?
I have found that meal prepping is a huge help and makes it easy to stay on track. Often, I'll spend one day prepping my family's meals for the week. I portion the meals into individual containers. This makes it easy to grab something to bring to work and takes the planning out of our days. I find the more prepared I am, the less likely I am to slip up. We do our grocery shopping once a week. I like to order my groceries online so that we can plan and budget correctly. That takes out any spur-of-the-moment temptations we might have while shopping.
LIVESTRONG.COM: What's the biggest challenge you faced?
I must say that this whole journey has been surprisingly easy for me. The MyPlate calorie tracker takes out all of the guesswork and makes it so easy to eat balanced meals. Once I made this commitment to myself, I just stuck to it until I got to my goal weight. The most challenging thing for me, I suppose, has been social situations where I can't control the food or people trying to give me unwanted food. In these situations I try to avoid the bad foods, but if I can't do that I at least try to only indulge in moderation.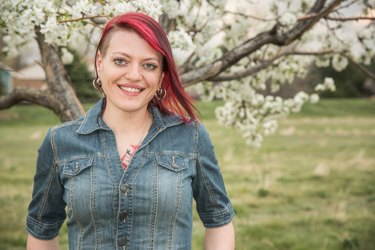 LIVESTRONG.COM: What's your biggest secret to success that you want to share with others?
Someone in the LIVESTRONG.COM community said once that it is not about motivation, it is about dedication. That really stuck with me, and I remind myself of that most days. Just be consistent, eat well and work out even on the days that you don't want to. If you rely on just being committed to your goal instead of trying to muster up motivation everyday, it's easier to stay consistent. That is one of the best pieces of advice I have ever been given, so I will pass that along.
Otherwise, do it for yourself and for your own health instead of doing it to please other people. Change your diet in ways that you can sustain. If you restrict too much you will probably give up eventually. Let changes be gradual, and don't be in a hurry — eventually it will just be your life instead of a diet.
LIVESTRONG.COM: What's your life like now?
Today my life is better than it's ever been! I'm happy and I'm off the antidepressants that I've been taking nearly all my life. I'm stronger than I've ever been, and I'm filled with energy. My life is good, and I feel good about myself. I still use LIVESTRONG.COM daily. I am involved with the community almost every day. I really enjoy having a fitness community that I can learn from. Everyone is so inspiring. I also still use the calorie tracker too. I don't track every day, but I like to check in a few times a week to see where I'm at with calories and macros.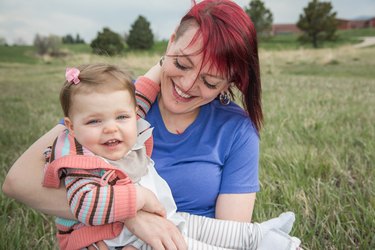 What Do YOU Think?
Do you have an inspiring Success Story to share? Did you use LIVESTRONG.COM to get healthy? Email us at support@livestrong.com for details on how to share! To get started on your fitness journey, join us today on LIVESTRONG.COM or by downloading the MyPlate app.