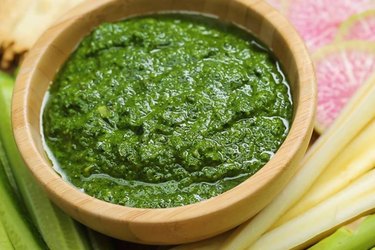 This brilliant green pesto tastes so good that you'll want to slather it on everything you make — from roasted fish to zucchini noodles. Not only is it creamy and delicious, it comes packed with kale, a vegetable that's rich in cancer-fighting antioxidants, fiber, iron and vitamins A, C and K.
But kale isn't the only healthy ingredient in this recipe: Pine nuts and olive oil are loaded with heart-healthy fats. Pine nuts are also rich in manganese, magnesium and zinc, while olive oil is loaded with antioxidants that help protect the heart and blood cells from damage.
A third of a cup of this pungent kale pesto clocks in at 219 calories, which is well worth it considering how much flavor it adds to a dish. We love to serve the pesto as a dip with crudites, as a topping for protein like steak and fish or mixed into a grain salad.