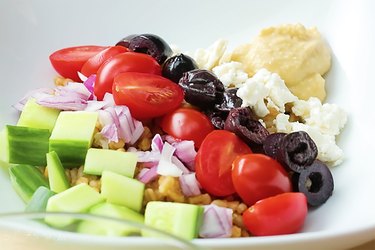 What ancient grain has more protein than quinoa and twice the calcium, plus fiber and vitamins A, B, C and E? Farro, a type of hulled wheat that has been used in central and northern Italian cuisine for centuries.
Farro is a light-brown grain that becomes tender, chewy and nutty (a bit like barley) when cooked. According to the New York Times, "Because it is so easily digested and so low in gluten, farro can often be eaten by people who are normally gluten-intolerant."
In our farro grain bowl recipe, we use the protein-packed ancient grain as a base for Mediterranean-inspired toppings like cucumber, tomatoes, black olives, feta and hummus dressing. One satisfying serving of the recipe provides 21 grams protein and only 550 calories.
This recipe is perfect if you're looking to meal prep for the week. Simply make the farro and hummus dressing in advance, chop up the vegetables and keep everything in separate containers in your fridge until you're ready to eat. You can even freeze any extra dressing and it will stay good for three to four months.
This farro bowl has tons of protein as is, but if you want to go ahead and top it with a fried or poached egg, more power to you! Customize your bowl any way you see fit, whether that means adding avocado, shaved carrot, roasted beets or toasted pine nuts or pumpkin seeds.