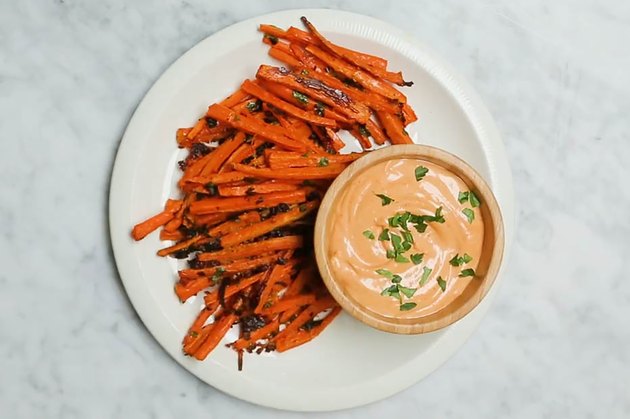 We love french fries, but we don't love the fact that they're deep-fried and loaded with trans fats and carbohydrates. So what's a health-conscious individual to do when he or she needs a french fry fix? Make these simple, addictive baked carrot fries that are seasoned with Parmesan cheese, parsley and cracked black pepper.
The best part: The carrot fries are a mere 107 calories per serving, and they're packed with vitamin A, which is essential for eye health. Plus, carrots are high in fiber and rich in antioxidants.
You'll want something cool and creamy to dip the carrot fries into when they come out of the oven. Try making a dipping sauce by combining protein-rich tahini, lemon juice, garlic powder and black pepper. And if tahini isn't your thing, try mixing together avocado-oil mayonnaise and Sriracha for a spicy mayo dipping sauce.
Serve these fries at your next dinner party, or make them for yourself when you want a pre-dinner snack or a healthy side dish. A good-for-you vegetable has never tasted so indulgent.