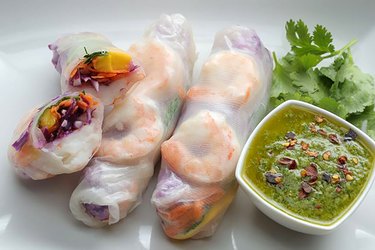 Are you looking for a go-to recipe that won't weigh you down or take you all evening to make? Enter these spring rolls stuffed with shrimp, juicy mango and fresh mint.
The Vietnamese rice paper wrapper used here is called "banh trang." It comes in a package looking stiff and plastic-like, but after you soak it briefly in water, it becomes pliable and is the perfect package to hold all your delicious fillings.
About those fillings: Shrimp are low in calories, rich in protein and high in selenium and vitamin B-12. Meanwhile, mango is juicy and naturally sweet, not to mention it's packed with fiber and vitamin A. And last but not least, the beloved avocado is high in good-for-you monounsaturated fats, which promote heart health.
At 232 calories and 14 grams fat per spring roll, you can eat more than a couple of these for lunch or dinner and still feel great about your life decisions. And if you're craving a sweet-and-spicy sauce to dip your spring rolls into, try this one featuring lime, avocado and cilantro.