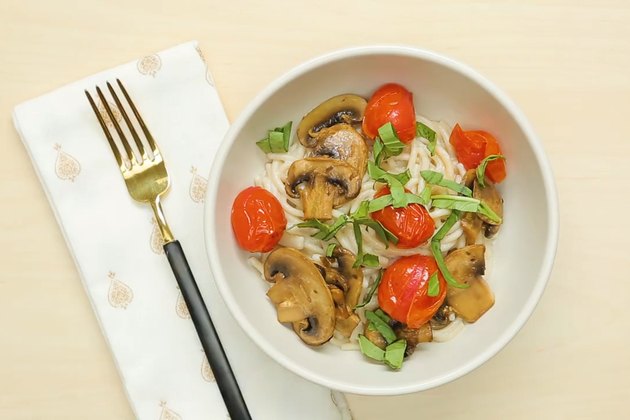 Have you recently adopted a dairy-free or vegan lifestyle? In no way does that mean you've magically stopped craving pasta with creamy Alfredo sauce.
We created a dairy-free version of this velvety fettuccine dish so you can celebrate your veganism and still indulge. Our Alfredo sauce trades the cream and butter for coconut milk, which we reduce down until it's thick enough to coat the brown rice pasta noodles.
Why use coconut milk as the dairy alternative? Coconut milk contains nutrients that, when ingested, may help fortify and condition skin and hair. Additionally, coconut milk contains medium-chain saturated fatty acids in combination with lauric acid, which can boost good HDL cholesterol.
We use brown rice pasta in this recipe, but you should feel free to swap it out for any other pasta alternative you love, like zucchini noodles or chickpea pasta. And if you don't like the sound of roasted cherry tomatoes and mushrooms, feel free to swap in any vegetables you're craving or that you have on hand.
As is, this vegan Alfredo pasta recipe comes in at 19 grams of carbohydrates and 280 calories per serving — not bad for an incredibly comforting dish that will make you think you're being naughty.