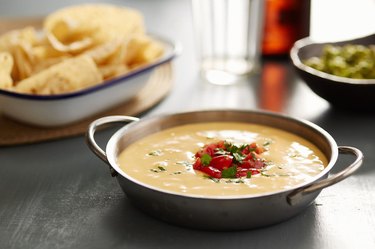 It's kind of hard not to love queso. The Tex-Mex staple is zesty, creamy and addictive. But can you still get your queso fix if you're vegan, lactose intolerant, or simply trying to eat healthy? Sure you can thanks to this irresistible vegan queso recipe.
Top your super creamy queso with fresh salsa and cilantro — and anything else your heart desires, i.e. avocado — and you've got yourself the perfect game day party dip. (Don't tell your Super Bowl guests that they're eating dairy-free queso and see if they say anything other than "Wow, I need this recipe now.")
Given that one serving of this queso has only 53 calories and 2 grams of total fat, we also encourage you to make this queso on any ole weeknight and eat in while binge-watching Netflix. Go ahead and live your best life, you deserve it.