Taking the time to practice the art of self-love can be a daunting task, especially with the hustle and bustle of everyday life. However, giving yourself a mental boost can be just as easy as reading and repeating a few words once or twice a day.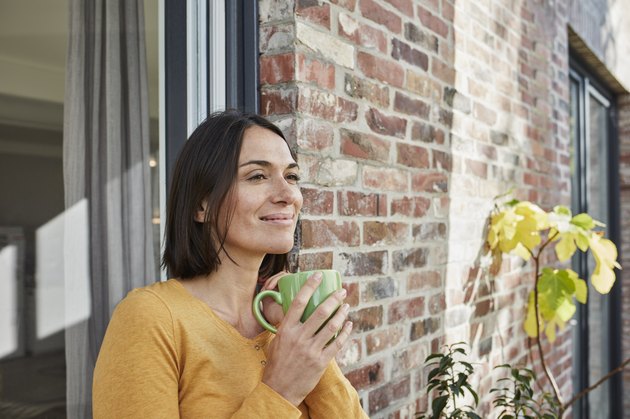 "We clutter our minds with lots of 'run of house stuff' — deadlines, kids' activities, errands, life details — and in the midst of that we can feel robotic, and may also lose the plot in terms of meaning, purpose and who we really are," says clinical psychologist and professor of psychology at California State University, Los Angeles, Ramani Durvasula, Ph.D. "Self-affirmations can elevate us from the mire a bit."
Another benefit of repeating a few self-inspiring words every day? Dr. Ramani says they can help counteract all that social comparison we do, whether because of social media feeds or interaction with others.
"Affirmations become internalized, and we are able to get through our busy days, but have an additional resilience that reminds us that we are more than enough, good, lovable and loving, and as such, can bring more empathy not only to ourselves, but to everyone we have contact with," she says.
Incorporating self-affirmations into your daily routine is incredibly easy. First off, Dr. Ramani suggests making the practice a part of your morning ritual. You can even program one or more affirmations into your phone so they're scheduled to appear when your alarm goes off in the morning. This way, you're reminded to take care of yourself and your mental wellbeing before you start replying to emails or worrying about the day ahead.
You can also schedule them to pop up at certain times of the day, put them on a post-it in your car, as a lock screen on a phone, say them in the mirror during meditation, repeat them during workouts or say them internally (or out loud) before an exam at school or a difficult meeting. Another great time to repeat them is right before bed.
Here are a few of Dr. Ramani's favorite self-love affirmations followed by more of our favorites from other wise souls:
"I am more than enough."
Dr. Ramani says that this affirmation can be reinforced by maintaining a daily practice of talking to at least one healthy person per day. "Someone who uplifts you, sees you through a growth mindset, does not undermine you or invalidate you," she says.
"I am going to talk to myself as I would my own child."
Before you engage in negative self-talk, Dr. Ramani encourages taking a moment to stop and think about whether you'd speak to a child that way. "If you wouldn't talk to your child that way then why would you talk to yourself that way?" she says.
"One day, my body will give out, but the energy inside me is eternal."
Dr. Ramani says we spend a lot of time enhancing our outsides often neglect our inner worlds. "While time at the gym and wearing a new outfit is uplifting, fill that inner world too," she says. For example, when you go to the gym, take some time to meditate, breathe and repeat your affirmations.
Create a Soul Box
As we don't always have the opportunity to avoid the toxic and difficult people in our lives, Dr. Ramani suggests mentally constructing a "soul box." That way, you can avoid personalizing negative encounters, manage your expectations and leave with your psyche intake.
"When you have to encounter those poisonous situations, mentally place their soul in that box and just bring their body and intellect to the table and don't allow that encounter to enter that sacred space," she says.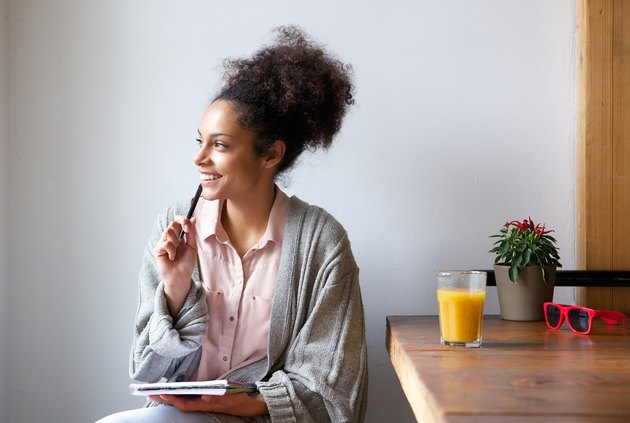 List of Our Favorite Positive Affirmations
"Act as if what you do makes a difference. It does."
—William James
"Owning our story and loving ourselves through that process is the bravest thing that we'll ever do."
—Brene Brown
"You alone are enough. You have nothing to prove to anyone."
—Maya Angelou
"There is nothing enlightened about shrinking so that other people won't feel insecure around you. We are all meant to shine."
— Marianne Williamson
"To accept ourselves as we are means to value our imperfections as much as our perfections."
—Sandra Bierig
"No one can make you feel inferior without your consent."
— Eleanor Roosevelt
"Confidence is the ability to feel beautiful without needing someone to tell you."
—Mandy Hale
"Love yourself. Be clear on how you want to be treated. Know your worth. Always."
—Maryam Hasnaa
"Don't ask yourself what the world needs, ask yourself what makes you come alive. And then go and do that. Because what the world needs is people who have come alive."
—Howard Washington Thurman
"Don't compromise yourself. You're all you've got."
—Janis Joplin
"What society thinks does not interest me. All that matters is how I see myself. I know who I am. I know the value of my work."
—Robin S. Sharma
"You have the power to achieve your dreams."
—Tae Yun Kim
"A great life begins inside."
—Malka Maxwell
"The more we see ourselves as vibrant, successful and inspired people, the more we will be."
—Kristi Bowman