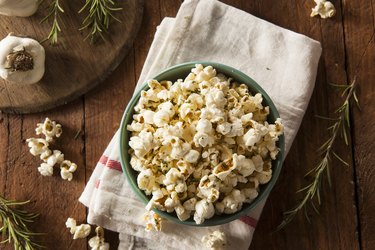 Popcorn seasoned simply with salt and butter is the perfect movie-night snack. But what if you want to add a little oomph to your popcorn without upping the calorie count?
Try adding herbs like chives, parsley and rosemary, along with sea salt and lemon zest for a snack that's as flavorful as it is satisfying. And at only 220 calories and 1 gram of saturated fat per 3-cup serving of popcorn, this really is the ultimate low-calorie snack.
Not only does rosemary add a distinct earthiness and peppery note to any dish, it's loaded with health benefits, including compounds that may potentially help manage type 2 diabetes. Feel free to throw in any other herbs you love or that you have in your garden, including antioxidant-rich sage.