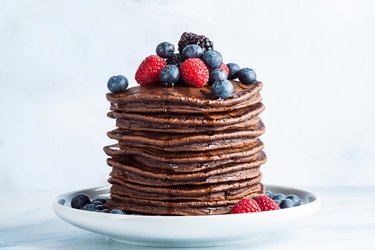 How do you enjoy both chocolate and raspberries in the morning and not blow your macros for the whole day? Lucky for you, these irresistible cocoa-and-raspberry pancakes have only 150 calories and 2.5 grams of total fat, plus a substantial 7.5 grams of dietary fiber.
The raspberries in this recipe are macerated with coconut nectar and balsamic vinegar, then used to top the vegan chocolate pancakes. The pancakes themselves feature chia seeds, which are high in beneficial omega-3 fatty acids, as well as antioxidant-rich cocoa powder.
Aside from its high antioxidant content (and the fact that it's delicious), cocoa is amazing because it "can protect nerves from injury and inflammation, protect the skin from oxidative damage from UV radiation in topical preparations, and have beneficial effects on satiety, cognitive function, and mood," according to research.
And if raspberries aren't your thing, top your pancakes with coconut flakes and cacao nibs, or greek yogurt laced with honey and cinnamon. Whatever you decide to pair with your pancakes, you will undoubtedly be achieving your breakfast goals.