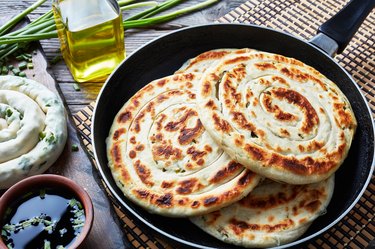 Scallion pancakes — in all their tender, chewy, flaky goodness — are usually oily and caloric. But when they're made at home with a few simple tweaks, they can become your next go-to healthy dish, perfect as a snack or part of a meal!
Typical scallion pancakes are actually more similar to flatbread than pancakes, using a basic dough as the base instead of a batter. The main ingredients are all-purpose flour, water, oil, scallions and salt.
To make that recipe a bit healthier, we swapped out some of the all-purpose flour for whole-wheat flour, added grated zucchini to the mix, cut back on the total amount of oil and gave it a kick with a pinch of red pepper flakes. How to make these even more special? With a tasty dipping sauce, of course!
Once you try these addicting, savory, delicious scallion pancakes, you'll want to add them to your weekly rotation.
How to Make Scallion Pancakes
This recipe makes six scallion pancakes, which will stay fresh in the refrigerator for up to 5 days.
To store longer: Place scallion pancakes in a resealable freezer bag with wax paper or parchment paper between each; they should stay fresh for one month.
To reheat: Place in the oven or toaster until warmed through and crisped up.
1 ½ cup all-purpose flour
1 cup whole-wheat flour or whole-wheat pastry flour
1 cup boiling water
1 tablespoon sesame oil
1 ½ teaspoons kosher salt
1 teaspoon red pepper flakes
5 scallions, thinly sliced
½ zucchini, grated
4 tablespoons canola or vegetable oil
½ cup low-sodium soy sauce or tamari
½ cup rice vinegar
1 to 2 tablespoons chile-garlic sauce
1 teaspoon sesame oil
Juice of 1 lime
1 scallion, thinly sliced
Nutrition Facts
Scallion pancakes: 290 calories, 13 g total fat, 0 mg cholesterol, 290 mg sodium, 40 g total carbs (3 g fiber, <1 g sugar), 6 g protein
Dipping sauce: 35 calories, 0 g total fat, 0 mg cholesterol, 750 mg sodium, 8 g total carbs (0 g fiber, 3 g sugar), 1 g protein
Step 1
In a large bowl, mix flours together. Add water and incorporate with flour, forming a ball.
Turn out dough onto a lightly floured surface and knead until smooth and elastic, approximately 5 minutes. Form dough into a ball and place back in bowl. Cover with plastic wrap and rest 30 minutes.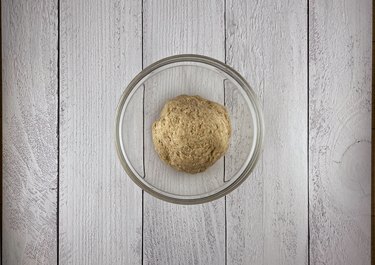 Step 2
While the dough is resting, prepare the dipping sauce. In a bowl, whisk all dipping sauce ingredients together and set aside.
In a separate small bowl, mix scallions and zucchini.
Step 3
Divide dough into six portions. Roll each out on a lightly floured surface into a roughly 6- by 9-inch rectangle.
Brush rectangle with ½ teaspoon sesame oil and sprinkle with ¼ teaspoon salt, a pinch of red pepper flakes and 2 tablespoons of the scallion mixture.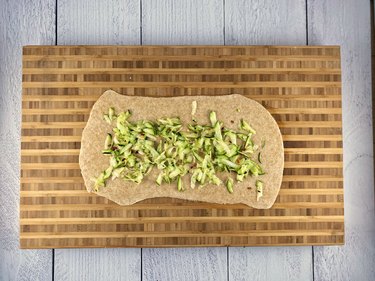 Step 4
Roll the dough into a thin log (like a jelly roll) and pinch each end to close. Starting at one end, twist log around onto itself to form a coil (like a cinnamon roll). Repeat with remaining dough.
Cover all with plastic wrap and let rest 15 minutes.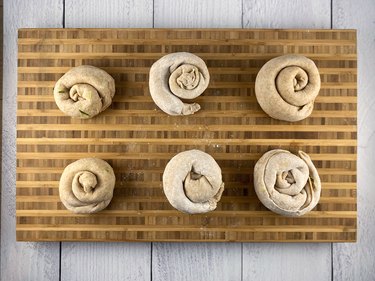 Step 5
Place one dough coil on a lightly floured surface and roll out and flatten to approximately 1/8-inch thickness and 6-inch around.
Place on parchment or lightly greased foil. Repeat with remaining dough.
Step 6
In a large skillet over medium heat, add 2 teaspoons canola oil. Add one pancake and cook until golden brown, approximately 3 minutes per side. Transfer to plate and tent with foil. Repeat with remaining oil and pancakes.
Serve with dipping sauce.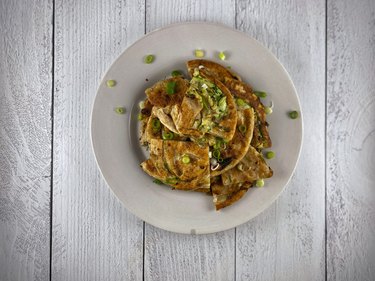 How to Serve Scallion Pancakes
Serve as a simple appetizer or side dish.
Use as a base for other foods, such as avocado, beans and sautéed vegetables. Sky's the limit here!
Add your egg style of choice (we like over-easy) on top and make an open-faced breakfast sandwich.