Yeast infections can occur in all age groups, from the very young to the very old. In babies, the most common ailments caused by yeast are diaper rash and a type of fungal infection in the mouth and throat called oral thrush. Rarely, a baby can develop a more serious yeast infection in the bloodstream or other organs. Symptoms depend on the type of infection and range from mild, local irritation to life-threatening illness in rare cases.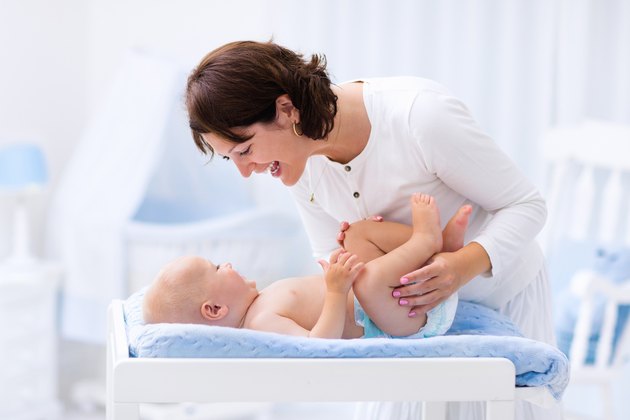 Diaper Rash and Similar Skin Infections
A type of fungus called Candida commonly causes yeast infections in babies. These infections most often occur when the skin's barrier defenses fail, allowing Candida that normally lives on the skin's surface invade the superficial skin tissue. Yeast thrives in warm, moist areas. Candida infection is a common cause of diaper rash, especially in association with diarrhea. Frequent drooling makes the area around the mouth and under the chin susceptible to yeast infections. Candida skin infections typically appear as bright red patches, often with surrounding red bumps called satellite lesions. The rash is typically most prominent in the skin creases. Candida rashes are often painful, and infants with diaper rash may be fussy, especially around changing time. Diaper rashes and similar skin infections caused by yeast are usually easily treated with antifungal creams and ointments.
Oral Thrush
Oral thrush is another common type of yeast infection that occurs frequently in babies, especially during the first 6 to 12 months of life. This yeast infection appears as white or yellowish patches in a baby's mouth. They may appear on the tongue, gums, roof of the mouth or the inside of the cheeks. Patches caused by a yeast infection in the mouth cannot be wiped away easily, unlike formula or breast milk that may coat the tongue. With thrush, bleeding may occur if the patches are wiped off. A baby may experience some discomfort or difficulty eating as a result of oral thrush, leading to poor feeding or fussiness during feeding. An antifungal solution may be prescribed to treat oral thrush.
Systemic Yeast Infections
A systemic yeast infection refers to invasion into the bloodstream with subsequent spread throughout the body. This type of yeast infection is very rare in babies, typically occurring only in those who have existing health problems. Infants who are born prematurely or with a low birth weight, have a weakened immune system or who are already hospitalized for another reason are at increased risk. Other risk factors include bladder catheterization and long-term antibiotic or chemotherapy treatment. Signs and symptoms may include a low or high temperature, poor feeding, irregular breathing and low blood pressure. Although rare, systemic yeast infections are very serious. They are a major cause of death in settings such as the neonatal intensive care unit, according to a March 2011 article in "Early Human Development."
Warnings and Precautions
Contact your doctor as soon as possible if you think your baby has a yeast infection of any type. Seek immediate medical attention if your baby is having difficulty eating. Also contact your doctor immediately or seek emergency medical care if your baby has a fever or low body temperature, is drowsy or difficult to awaken, or experiences rapid, labored or irregular breathing.
Reviewed by: Tina M. St. John, M.D.
Is This an Emergency?
If you are experiencing serious medical symptoms, seek emergency treatment immediately.