A lack of self confidence can be emotionally, physically and psychologically debilitating. Occasionally, almost everyone will experience a brief lapse in confidence, which ties in to self esteem and self image, but others deal with it daily. A negative self image creates fear, according to Solveyourproblem.com. The Self Esteem Institute claims that those who lack self confidence expect failure, which may lead to the extremes of overachieving or underachieving.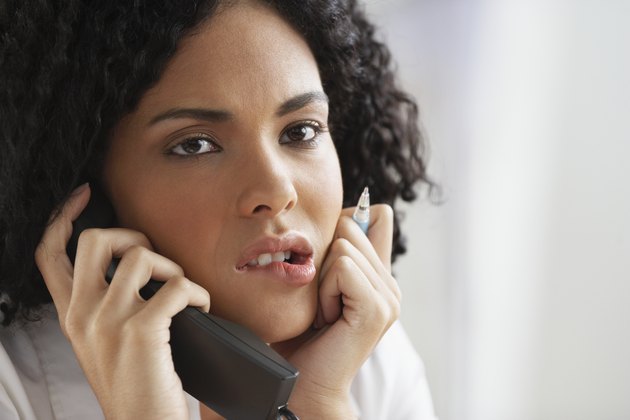 Need to Explain
The need to explain actions is one of the signs of a lack of self confidence. Mistakes happen to everyone, but those who have self confidence issues may feel that they have to give reasons, according to M. Farouk Radwan on Counseling Mom blog. People who lack confidence in themselves may also feel the need to explain decisions, even if they are successful.
Blaming Others
When people chronically complain and blame others, they may be suffering from a lack of self confidence. This takes the responsibility off the person who does the complaining and puts it on those they are complaining about. The complainer with low self esteem becomes the victim.
Immediate Excuses
When criticized, the person who lacks self confidence may immediately make excuses. More confident people will listen to the criticism and decide later whether or not it is constructive, according to Radwan. The need to make excuses shows the person's desire to keep people from thinking he is worthless, according to the Solid Self Confidence Program.
Defensiveness
When a person has defensive body language, such as crossing the arms or legs, she may be exhibiting a lack of self confidence by shutting others out. The gesture of closing off shows anxiety and discomfort in the environment.
Needing Acceptance
People who lack self confidence often need the approval of others to feel validated, according to Selfesteemawareness.com. If others accept the person who lacks confidence, then she must be okay. Not getting that approval or receiving criticism is frustrating and drives the level of self confidence even lower. To change this, the person suffering from confidence problems needs to realize that not everyone will approve of her actions or be pleased with her decisions.
Unable to Enjoy Success
Some people's self esteem is so low they drive themselves to overachievement then fail to see that their ability was what brought success. They may consider themselves lucky rather than competent, according to the Self Esteem Institute. They lack confidence in their own judgment, and they expect disapproval.
Fear of Change
A lack of self confidence can also motivate people to stay in unsatisfying situations. They may stay in a bad relationship or job that isn't right for them because of a fear of change. The lack of confidence to make good decisions for change keeps them in negative environments.
Negativity
When someone suffers from low self esteem, he may become pessimistic and critical of all situations. He takes his negative feelings out on family, friends and coworkers, and lacks the ability to be optimistic.
Fear of Future
Many sufferers from low self confidence worries about the future and what might happen, according to Solveyourproblem.com. They lack the ability to enjoy the present because they're so worried about the bad things that might happen.
Shame And Need for Perfection
People who lack self confidence may expect perfection and feel shame when they don't achieve it. They feel that they will please others if they are perfect. Shame drives them to look, act or speak a certain way to achieve perfection.