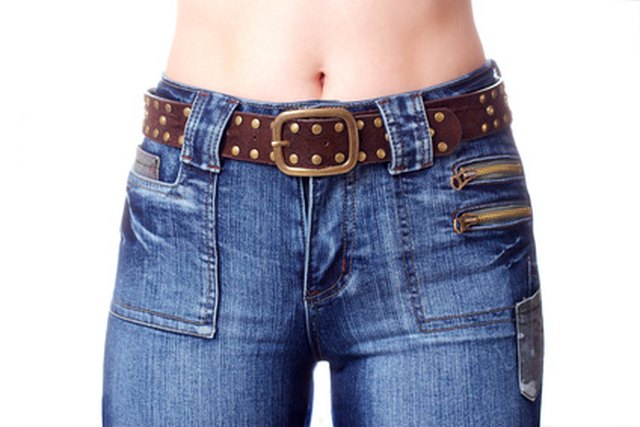 Losing belly fat is important to your health. The American Heart Association reports that men with a waist size over 40 inches and women with a waist size over 35 inches should take immediate steps to lose weight in order to reduce the risk of developing diabetes, heart disease, stroke and other chronic conditions. Even if you are not in the "danger" range of waist size, belly fat is unsightly and makes you appear unfit. While many supplements and fad diets promise fast, easy ways to create a slimmer midsection, natural approaches may be safer and more successful.
Cut Out Certain Foods
While you might like to blame genetics and metabolism, belly fat is usually a result of poor dietary choices reports. Make an effort to clean up your diet, specifically limiting saturated fat, trans fats and excessive sugars. Saturated fats are found in fatty cuts of meat, poultry skin, palm oils and full-fat dairy. Trans fats are man-made fats present in a number of processed products and actually contribute to belly fat accumulation—even if you follow a low-calorie diet—reports a 2007 animal study in an issue of the journal Obesity. Americans eat about 22 teaspoons of added sugars per day, padding their waistline with 355 unnecessary calories daily, reports the American Heart Association. Cut out sodas, energy drinks, flavored yogurts and sweets to reduce your intake and help with weight and belly fat loss.
Focus on a Healthy Diet
Reduce calories by watching portion sizes and emphasizing whole, unprocessed foods. Make an effort to include certain foods in your diet. Eat low fat dairy because, as noted in a 2009 study from Australia's Curtin University, dieters who ate five daily servings lost more belly fat than their peers who consumed only three servings. Swap refined, white breads and rice for whole grain varieties. A study in the American Journal of Clinical Nutrition published in 2008 found that dieters who replaced their regular intake of white flours with whole grains experienced more loss of fat from the belly.
Eat Healthy Fat
You do not need to eschew fat to lose fat. Heart healthy, monounsaturated varieties, found in safflower oil, coconut oil, olive oil, olives and nuts—when consumed in moderation—can actually assist your efforts to lose belly fat. Use heart healthy oils for cooking in lieu of butter or vegetable oil. Make your own salad dressing with olive oil, rather than mayonnaise. Snack on one-ounce servings of nuts instead of a bag of chips. In the Asia Pacific Journal of Public Health, lead researcher M.J. Soares wrote in 2003 that monounsaturated fats increase fat oxidation and impart a boost to your metabolism. People find adherence to a diet including these fats manageable and experience greater belly fat loss when compared to diets full of saturated fats.
Exercise More
Belly fat responds to exercise-induced weight loss. In order to garner results, you must work harder than the guidelines put forth by the American College of Sports Medicine or Centers for Disease Control and Prevention, notes a study in the July 7, 2005 issue of the Journal of Applied Physiology. Researchers found that exercise matching 20 miles of jogging per week results in belly fat loss, while ACSM/CDC guidelines simply prevent the accumulation of further belly fat. Go for at least 40 minutes of moderate intensity exercise most days of the week—try an aerobics class, use the elliptical, take your bike for a spin or train for a race.