Because hair loss is often mentioned as a potential pregnancy side effect, some women mistakenly infer that this hair loss typically occurs during pregnancy. While hair loss after pregnancy affects as many of 40 to 50 percent of women, according to the American Pregnancy Association, shedding hair during pregnancy can indicate a hormonal problem or nutritional deficiency.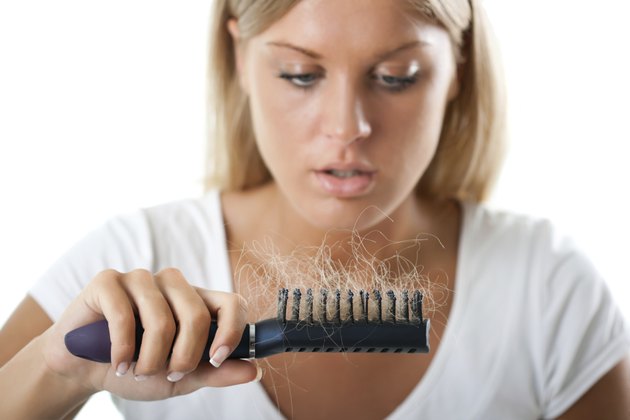 History
The American Pregnancy Association notes that 90 percent of your hair is normally growing while the other 10 percent rests. Women shed the resting hairs when they wash their hair, brush it and perform other regular activities. Pregnancy hormones often extend the hair's growth cycle—leading many women to experience thicker, fuller hair throughout pregnancy. As soon as they deliver and the hormones diminish, many women experience mild, temporary hair loss as more hairs return to their resting state.
Identification
Most people lose about 50 to 100 hairs a day, according to the American Academy of Dermatology. This normal shedding should not cause any type of baldness or noticeable thinning of the scalp. The shedding also tends to occur in a normal pattern. You might notice more hair loss if your hair is long or if you regularly chemical treat your hair with hair dyes, permanent waves or straighteners.
Considerations
Nausea and vomiting due to pregnancy hormones in the first trimester can lead to poor nutrition, which can lead to hair loss. You might benefit from dietary supplements with vitamin B complex, biotin, vitamin C, vitamin E and zinc. Always talk to your doctor before taking any type of vitamin supplements during pregnancy.
Warning
Even after you address any underlying nutritional deficiencies or hormonal imbalances, it can take several months for your hair to return to normal. MayoClinic.com cautions that hormonal problems might disrupt your hair's normal loss patterns for up to three months, followed by another three months for things to return to normal.
Prevention/Solution
If your doctor determines that hormonal changes or nutritional deficiencies triggered your hair loss in early pregnancy, the condition will most likely resolve itself as your hormones regulate or you add vitamins and minerals to your diet. In the meantime, a shorter hairstyle can often help disguise the hair loss. You might also try using thickening products and shampoos to give your hair a fuller appearance. The American Pregnancy Association suggests looking for products that contain biotin and silica. Avoid styling your hair with blow dryers, curling irons, hot rollers or other heated styling devices.