Ammonium lactate lotion is a prescription lotion designed to heal excessively dry, chapped, irritated skin, or scaly skin. It also provides temporary relief of the itching associated with these conditions. Composed of an alpha-hydroxy acid, it is effective at hydrating the outer layer of the skin. Although relatively safe, treated areas should not be exposed to ultraviolet light.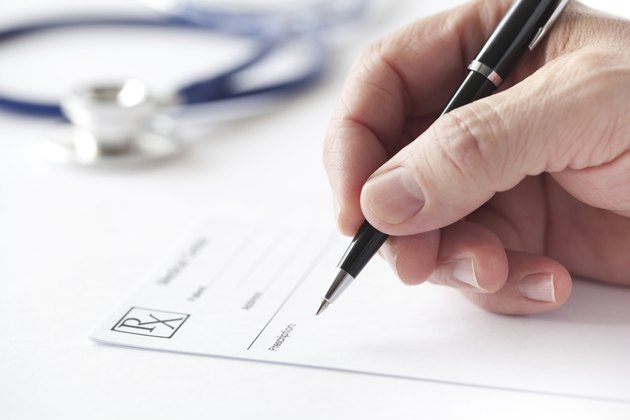 Ingredients
Ingredients found in commonly prescribed 12 percent ammonium lactate lotion include mineral oil, glyceryl stearate, PEG-100 stearate, propylene glycol, polyoxyl 40 stearate, glycerin, magnesium aluminum silicate, laureth-4, cetyl alcohol, methyl and propyl parabens, methylcellulose, fragrance and water.
Action
Amonnium lactate acts to moisturize skin. The outermost layer of the skin is known as the stratum corneum. The amount of water contained in this layer determines whether skin is sufficiently moisturized. When the stratum corneum is not sufficiently moisturized, the skin can be rough, dry or cracked, and can become scaly and irritated. Ammonium lactate provides relief to irritated and dry skin by increasing the moisture content of the stratum corneum layer of the skin. In addition to providing symptomatic relief of dry skin, prescription use of ammonium lactate reduces excessively thick skin found in patients with medical conditions that cause dry, thickened, scaly or flaky skin.
Side Effects
The most frequent side effect of using topical 12 percent ammonium lactate lotion is a stinging or burning sensation. Rash and peeling skin may also occur. Less frequently occurring side effects include irritation, dryness, eczema, changes in skin color, or small red or purple spots caused by broken capillary blood vessels.
Warnings
Ammonium lactate lotion is made for external use only. Do not ingest the lotion, or apply it to your eyes, mouth or mucous membranes. Wash your hands to remove excess medication after applying the lotion to affected areas. Avoid exposure to sunlight with use of this lotion -- this can increase your risk of sunburn.
Use in Pregnant or Lactating Women
While laboratory experiments in animals did not indicate any negative effects on fetuses or impaired fertility, there is not enough evidence to indicate the same is true for humans. Therefore, 12 percent ammonium lactate should only be used on pregnant or lactating women if clearly necessary, as directed by a doctor.