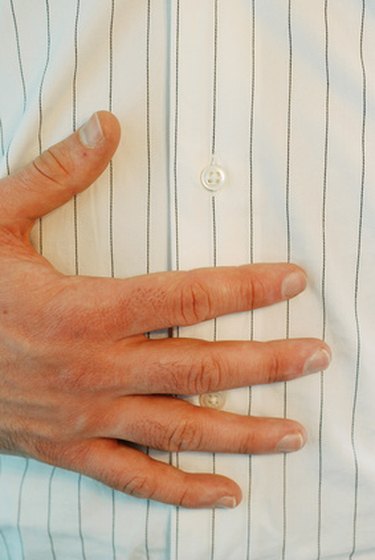 If you notice white spots on your nail plate, it's not necessarily a cause for worry. The spots, called leukonychia, are often caused by small injuries to the nail base—you might have had a rough manicure or pinched it in a drawer as long as six weeks ago. Although some white marks can be caused by vitamin or mineral deficiencies, this isn't usually the case. If the spots don't vanish as the nail grows out or if your entire nail turns white, it may be a sign of something more serious.
Zinc Deficiency
Some researchers claim white spots on your fingernails are the product of a zinc deficiency; others say this is untrue. Dr. Andrew Weil is one of the latter, while the late Dr. Carl Pfeiffer, author of "Dr. Pfeiffer's Total Nutrition" and the former director of the Princeton Brain Bio Center, believed white spots are an early indicator of a dietary zinc deficiency. Until science provides you with a firmer answer, you can experiment by adding zinc-rich foods to your diet and see if they have an effect on your nail's white spots. Just six medium-size oysters give you more than 500 percent of your daily recommended zinc allowance; other natural sources of zinc include beef shanks, crab, pork shoulder, baked beans and yogurt.
Protein Deficiency
If you're not getting enough dietary protein, the loss is often revealed in your nails. You may start to see horizontal white bands that extend across the nail bed, called Muehrcke's lines. These lines won't grow out with your nail since they're on the nail bed, not the nail plate. They usually disappear when your protein levels return to normal, although in rare cases they can also indicate liver disease. To test whether your lines are Muehrcke's lines, press on the nail plate. If your lines disappear, you have Muehrcke's lines.
Calcium Deficiency
It's a widespread belief that calcium deficiency causes leukonychia—possibly because of the numerous calcium-enriched nail-strengtheners on the market. Companies such as Orly, OPI, Brucci and Maybelline offer nail strengtheners with calcium listed as an ingredient; some even include "calcium" in the product name. However, the scientific evidence isn't there to back up this theory. Dr. Andrew Weil is among those who don't believe calcium deficiency has anything to do with white spots. New Zealand's Dr. Ian Reid performed a study in 2000 that pitted calcium-supplemented women against a placebo group to test for nail health and strength; most women experienced no change, no matter which test group they belonged to.
Other Vitamin Deficiencies
You may find blogs, advice columns or magazine articles mentioning vitamin A, C, E or B12 deficiencies as reasons for white spots on your nails. These connections remain largely unconfirmed. In fact, a 2007 study performed by the Department of Dermatology at Columbia University Presbyterian Hospital found absolutely no link between vitamin A, vitamin C, vitamin E or vitamin B12 supplements in terms of nail health or appearance. The supplements even failed to help patients with nail discoloration or damage caused by previously diagnosed conditions.
Other Possible Causes for White Nails
Deficiencies and small injuries aren't the only cause of white spots on the nails. A condition called Terry's nails, or white nails, turns the entire nail white indicating liver disease. If the top half of the nail turns white, this can indicate kidney failure. If you find white horizontal lines that stretch all the way across the nail, these could be Mees' lines. Unlike the Muehrcke's lines discussed above, Mees' lines are on the nail plate itself, which means they move up as your nail grows out. Mees' lines usually indicate the presence of a systemic disease, such as malaria or Hodgkin's, or a traumatic event such as arsenic or carbon monoxide poisoning.