Dating has many positive benefits for teens, even if they easily get carried away with romantic feelings. Appropriate teen relationships lead to maturity in teenagers and a better understanding of adult relationships. Getting this practice in early allows teens to discover what they want and need out of romantic relationships. Through dating, teens gain essential tools in navigating the world and are better able to develop meaningful intimate relationships as adults.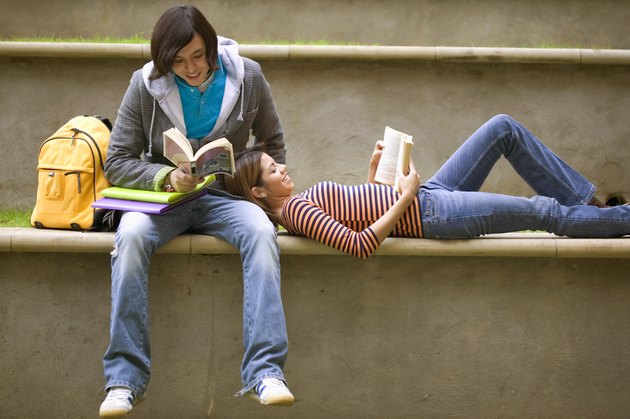 Ch-Ch-Changes
One positive aspect of teenage dating is that it facilitates maturity in teens. Because of dating, teens have a better understanding of how affection and intimacy function within a relationship, according to Gateway, a publication from the University of Illinois at Urbana-Champaign that is dedicated to teen issues. In turn, they are better able to interact with others, distinguishing intimate feelings from companionate ones. Thus, teens grasp the power and weight of romantic feelings and gain a sense of control over them. By pursuing dating relationships, teens grow in their ability to discern lust from intimacy.
Walking the Line
Boundary setting is a potential benefit of teen dating. Boundaries are important because they determine acceptable treatment. Teens must learn how to create and negotiate boundaries so that they do not become enmeshed or abused in relationships. This particular benefit can manifest as a better understanding of what is acceptable within a relationship or by setting of standard of acceptable partners. These boundaries go on to influence adult relationships and serve as a framework for how relationships function.
Talking the Talk
Communication skills are a necessary component of relationships, which grow in teens when they date. Through communication, teens talk about their needs and demonstrate their feelings, but also listen when their partners do the same. By participating in dating, teens begin to learn how to compromise and cooperate with partners, building on important skills such as active listening and nonverbal messages. They develop the ability to resolve conflict without hostility and negotiate with their partners. By learning communication skills early, teens are better equipped to handle positive dating relationships as adults.
Drawing a Blueprint
Dating gives teens important practice in managing intimate relationships. This practice is an essential skill, which they will hone throughout their adult lives. Teens begin to develop an understanding of how intimate relationships work. They find what factors contribute to successful relationships, but also discover what they need and desire from intimate others. These early dating relationships often lead to fulfilling and caring adult romantic relationships, adding credence to this positive aspect of teenage dating, according to Education.com.