It's never too early to protect yourself from health problems. Certain vitamins can lower your risk of several conditions, ranging from low iron levels and premenstrual syndrome to osteoporosis and breast cancer. If you think you need to take a vitamin supplement, talk it over with your doctor. Vitamins are generally safe when taken in the proper dosage, but some supplements may interact with medications.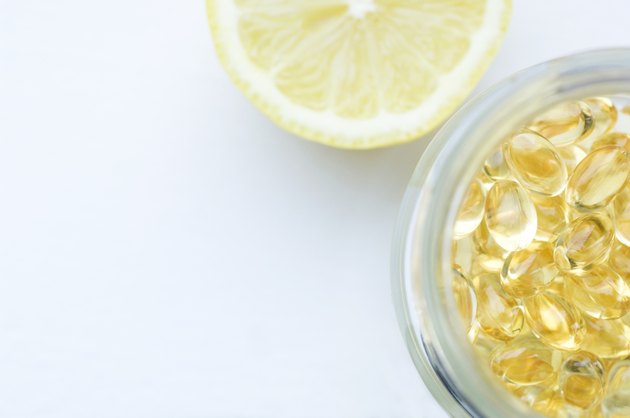 Vitamin C
Young childbearing-age women are sometimes at risk of developing iron-deficiency anemia, meaning low iron levels. This can leave you feeling tired all the time as cells struggle to get the oxygen they need. Your risk of being iron-deficient are greater if you regularly have heavy menstrual cycles, since you're losing elevated amounts of blood. Vitamin C helps iron from plant foods and supplements -- known as nonheme iron -- absorb better, particularly when it's taken around the same time as the iron-rich food. In your 20s, you need 75 milligrams of vitamin C per day, recommends the Food and Nutrition Board of the Institute of Medicine. Generally, any type of produce offers vitamin C, although strawberries, bell peppers, oranges, broccoli and kiwis are the richest sources.
Vitamin D
Vitamin D preserves your bones by promoting calcium absorption, lowering your risk of osteoporosis as you pass menopause. This vitamin even lessens your chances of suffering from breast cancer, as shown in a 2007 study reported in the "Journal of Steroid Biochemistry and Molecular Biology." Researchers observed that taking 2,000 international units of vitamin D-3 each day, in addition to 12 minutes of sunlight exposure, raised vitamin D blood levels to 52 nanograms per milliliter. The risk of developing breast cancer can go down by as much as 50 percent in this case. This isn't a toxic dose, but it is over three times the recommendation of 600 international units daily, so check with your doctor to ensure it's fitting for you. Or you can get vitamin D by drinking fortified milk or orange juice, eating fatty fish or enjoying whole eggs.
Folic Acid
You might not be thinking about babies yet, but if you're sexually active, it's a possibility. Birth defects that affect the central nervous system form early in development, possibly before you're aware of a pregnancy. Taking folic acid reduces these defects, called neural tube defects, by over 70 percent, the New York State Department of Health reports. Aside from pregnancy health, folic acid is still important in your 20s because it is critical for regular cell growth and cell formation. The recommendation is 400 micrograms per day. Meeting your needs is as easy as adding legumes, seeds, eggs, citrus fruits or leafy greens to your diet. Many breakfast cereals and grain foods are also fortified with this B vitamin.
Other B Vitamins
If your monthly cycle affects your mood and energy -- symptoms of premenstrual syndrome -- certain B vitamins can help. In a 2011 study posted in the "American Journal of Clinical Nutrition," researchers found that riboflavin can reduce the incidence of PMS symptoms by as much as 35 percent. Thiamine is also beneficial for relief. Researchers stated, however, that benefits were only observed with high intakes of thiamine and riboflavin from food sources. Both vitamins have recommendations of 1.1 milligrams a day during your 20s. Fortified breakfast cereals and whole grains are rich in riboflavin and thiamine. Additionally, dairy, egg whites and meat are full of riboflavin, while nuts, seeds and legumes are especially high in thiamine.