Laser prostate surgery involves the use of concentrated, high-energy waves and intense heat to destroy prostate gland tissue that obstructs the flow of urine or causes other complications. Because laser surgery is minimally invasive and does not require surgical incisions, it causes fewer long-term and severe side effects, according to MayoClinic.com. However, laser procedures may cause temporary side effects for some men.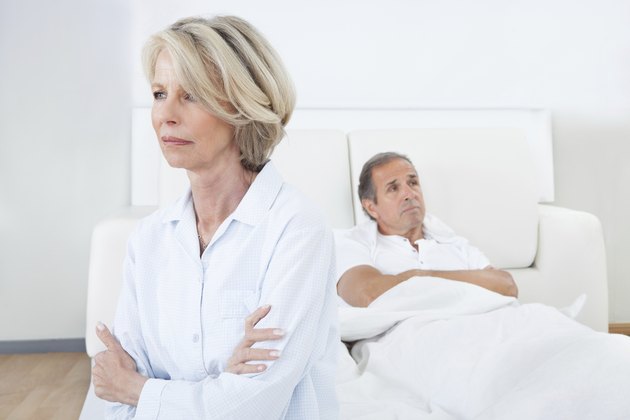 Urinary Side Effects
According to MayoClinic.com, laser prostate surgery can cause a range of urinary side effects, including urinary retention--problems urinating--and urinary tract infections. Both of these conditions may require the insertion of a urinary catheter for a couple of days or weeks in order to drain urine from the bladder. Individuals who develop urinary tract infections may also need antibiotics to kill any underlying bacterial infection. In some cases, the passage of urine may become blocked as a result of the formation of scar tissue that develops inside of the urethra after laser surgery, necessitating additional treatment to open up the narrowed tube.
Hematuria, or blood in the urine, may also develop as a side effect of surgery. For example, interstitial laser coagulation--a type of outpatient laser prostate surgery--commonly causes blood to turn up in the urine as a temporary side effect that lasts for approximately seven days post-procedure, according to UrologyChannel.com. Other laser prostate procedures such as Holmium laser enucleation of the prostate may also lead to short-term incontinence, or an inability to hold the urine.
Retrograde Ejaculation
Laser surgery for an enlarged prostate gland can adversely affect the normal flow of sperm out of the penis, resulting in a condition called retrograde ejaculation. Characterized by the backflow of semen toward the bladder during ejaculation, retrograde ejaculation is not typically painful; however, it can impair fertility as very little semen leaves the penis, according to MayoClinic.com.
Erectile Dysfunction
Rarely, certain laser prostate surgeries--for example, interstitial laser coagulation--can cause erectile dysfunction, or impotence. In these cases, men may become unable to get or maintain an erection that is firm enough for intercourse as a side effect of nerve damage occurring during the procedure. According to MayoClinic.com, patients undergoing laser prostate surgery are much less likely to develop erectile dysfunction than those undergoing traditional, invasive prostate resection.
Prostate Re-Growth and Need for Re-Treatment
According to MayoClinic.com, some laser surgeries can cause the prostate gland to swell immediately after surgery. In other instances, the prostate gland may proceed to re-grow during the months following surgery. The failure of laser surgery to provide either immediate or lasting results may necessitate additional treatments or re-treatment with another type of laser surgery or a more invasive prostate surgery such as an open prostatectomy or transurethral resection of the prostate. According to MayoClinic.com, laser ablation surgeries--involving the vaporization of prostate tissue with heat--are more likely to require re-treatment than laser enucleation procedures, which more completely destroy prostate cells.