According to the website Orthogate, calcification of the shoulder occurs when calcium deposits build up on shoulder tendons, causing the surrounding tissue to become inflamed. Exercises to strengthen the shoulder muscles--collectively known as the rotator cuff--can alleviate the pain this condition causes. If your injury is recent, you may need a period of rest and applying ice to the area, and always speak to a medical expert before starting any form of rehabilitation.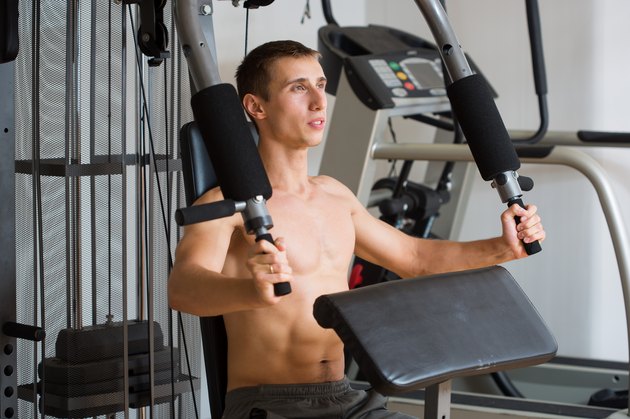 Shoulder Stabilization
According to Physio Works, before doing any exercises you should first make sure that you have correct shoulder posture. To do this, rotate your shoulders back and down so your shoulder blades are slightly pinched in towards each other, and your chest is open and lifted. Make sure your shoulders are down--so there is space between them and your ears--and your upper back is straight, not hunched. If you get into the habit of maintaining good shoulder posture throughout the day, including when doing shoulder exercises, Physio Works says you will be able to perform the exercises correctly and feel less pain while doing them, achieve greater benefits and avoid injury.
Improve Your Range of Motion
To do this exercise, FamilyDoctor.org says to stand up and bend over so you're looking at the floor. Drop your injured arm down towards the floor and, if you need to, use your other hand to hold on to a wall or table for support. Start to circle your injured arm in the air, starting with small rotations then gradually make them bigger until you are using your shoulder's full range of movement. FamilyDoctor.org recommends repeating this exercise up to 10 times throughout the day, but stop immediately if you feel any pain.
Strengthen Your Upper Shoulder
FamilyDoctor.org suggests doing this exercise only when you no longer experience any pain in your shoulder. You will need hand weights or a tin can to do this exercise. Lie on the side that isn't injured so that your injured arm is on top. Position the elbow of your upper arm on or near your hip with your forearm crossed down over your stomach. Using a weight, slowly raise your forearm in the air then lower it back to the start position. Be sure to keep your elbow anchored on your side throughout the exercise, and repeat as many times as you can.