Although the idea of spot-reducing fat from a particular area on your body is considered a myth, any cardio activity you include in your exercise regimen will get your heart rate going and help blast those calories away, reducing overall body fat. There are also certain cardio exercises which engage the chest more, and are essential to incorporate into your workout if your focus is losing fat from the chest area. Always consult your doctor, though, before beginning this or any exercise regimen.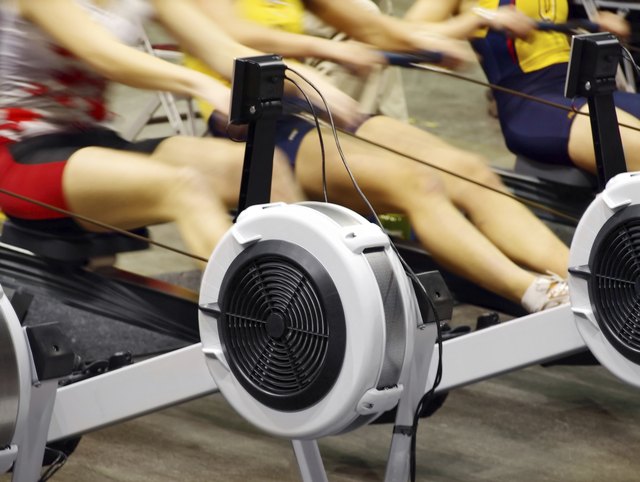 Muscles in the Chest
The chest is made up of two separate sets of muscles, known as the pectoralis major muscles, the larger muscles that make up the bulk of the chest muscles, with the smaller pectoralis minor muscles which sit largely below these muscles. The main purpose of the chest muscles is to allow for the movement of the shoulder joint.
Cardio Exercise Ideas
Base your workout around cardio activities such as jumping jacks, jumping rope, rowing, circuit training, and cycling. These exercises work the upper and lower body, providing you with a full-body caloric burn and also providing you with an array of cardiovascular benefits. Start off with a lower intensity cardio exercise to warm your body up for the first five to 10 minutes, followed by moderate to high intensity cardio for the duration of your workout, to maximize the fat-burning effects each day.
Create a Workout Plan
Planning your workouts is important, to help keep you focused and ensure you're seeing results. Try to include at least four to five 30-minute sessions of cardio in each week, along with two to three strength training workouts. Adding in 10 to 15 minutes of stretching post-workout is also important to include, helping to maximize the results of your workout, but also offering other benefits including increased flexibility, improved circulation, and the prevention of muscle stiffness after your workout.
Variety is the Key to Success
It's always important to change up your workout every now and then, keeping variety in your total fitness plan. This keeps things fresh, prevents you from growing bored of your workout routine, helping you stay focused and interested, but also helps you avoid physically plateauing. Switch things up at least once every four to six weeks, so your routine is always changing and your body is regularly adapting, to maximize your results.
Incorporate Weights into Your Routine
Although weight-based exercises are typically considered as a form of resistance training for building muscle, it can help with your fat loss goals. In fact, as experts at Nerd Fitness put it when it comes to burning fat, weight training combined with cardio is the most effective method. One of the main benefits of strength training exercises is that they boost your metabolism and help you burn fat not only during your workout, but long after too. What's more, you can target the chest muscles with exercises such as the bench press, chest dip, and push-ups, to burn fat and build muscle in the chest area.
Dietary Considerations
If you're not putting the right things in your body, even with a well-planned, effective workout routine, you're not going to shed that fat. For losing fat, maintain a caloric deficit of about 500 calories a day, meaning you're taking in roughly 3,500 fewer calories than you're expending on a weekly basis, and should safely lose one pound of body fat over the course of that week.