Pregnancy is typically a time filled with anticipation and excitement as you wait for the new arrival. But if you develop left-sided abdominal pain, it can be worrisome and interfere with your sense of well-being. Although mild left-sided abdominal pain can stem from a condition that's normal during pregnancy, persistent or severe pain might indicate a serious problem that should prompt an immediate visit to your doctor.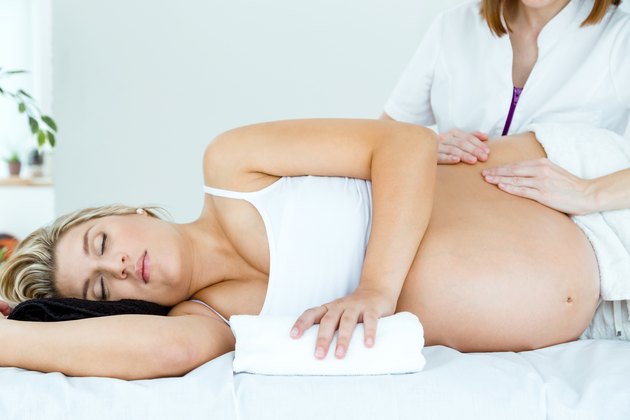 Normal Causes
Abdominal pain on either side during pregnancy may be due to stretching of your uterus and the ligaments that support it. Your uterus expands as the fetus grows, putting stress on the ligaments that attach it to your internal body wall. This can cause brief pains on either side, most typically during the second trimester. If the pain is on the left side, it is likely because your uterus is tipped a bit toward the right side, relaxing the ligament on that side while stretching the left ligament. Ligament pain is usually intermittent and sharp, often brought on by sudden movement, laughing or coughing. Sometimes the pain extends into the groin. Changing positions slowly or resting often relieves the pain. Talk with your doctor about whether pelvic tilt exercises may help and how to do them properly.
Ovarian Cysts
When you become pregnant, the remnant of the ovarian follicle that produced the egg becomes a structure called the corpus luteum. The corpus luteum persists if pregnancy occurs, producing hormones essential during early pregnancy. It usually begins to shrink after the first trimester. Sometimes the corpus luteum lasts longer than usual and becomes fluid filled, forming a cyst. Other types of ovarian cysts can also occur during pregnancy. Any of these cysts might cause a dull or sharp pain on the lower left side of your abdomen. Most ovarian cysts during pregnancy go away without treatment, and many doctors advise simply watching the cyst with periodic ultrasound tests. In rare cases, the ovary twists or the cyst ruptures, causing severe pain and possible complications. This could require emergency treatment and possibly surgery.
Gastrointestinal Causes
Hormonal changes during pregnancy may upset your digestive system, commonly leading to excess gas and constipation -- both of which might cause left side abdominal pain. Other digestive system problems unrelated to pregnancy, such as pancreatitis, can also produce midline or left-sided pain. Your pancreas is located behind your stomach and might become inflamed if you have gallstones or another condition that causes pancreatic irritation. Pancreatic pain typically flares after eating high-fat foods or when you lie on your back, and could radiate to your back or your left shoulder blade.
Serious Problems
In rare cases, a more serious problem during pregnancy might cause left-sided abdominal pain. For example, if the fetus implants abnormally in the left fallopian tube, which is called an ectopic pregnancy. This can cause left-sided pain, although some women might experience no symptoms in the early weeks of pregnancy. An ectopic pregnancy can be a life-threatening emergency if the fallopian tube ruptures. However, the condition is most often diagnosed early with an ultrasound exam and treated surgically. Other potentially serious conditions that might cause left-sided abdominal pain include early or preterm labor, miscarriage, kidney stones and certain infections.
Next Steps and Cautionary Notes
Talk with your health care provider if you develop left-sided abdominal pain during pregnancy to determine the likely cause and treatment options. Even if the pain is mild or only occurs occasionally, it's a good idea to mention your discomfort just to be sure it is not something serious. If your pain is severe, worsening or accompanied by a fever, bleeding or other symptoms, contact your doctor right away or seek emergency medical care.
Reviewed by: Tina M. St. John, M.D.