When it comes to building upper body and core strength and flexibility, gymnastics training is among the best method. Most workout enthusiasts, however, don't have access to a gymnastics facility or equipment. Parallel bars—commonly referred to as parallettes—allow you to incorporate gymnastics training into your workout routine. Parallel bars are a common piece of gymnastics equipment that builds coordination, strength, accuracy, agility and balance. Homemade versions or parallel bars are easy to make, economical, durable and functional.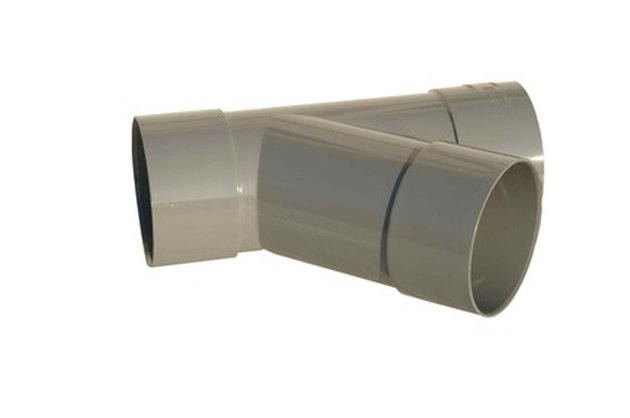 Step 1
Prepare the 10 foot section of PVC for cutting by cleaning and drying. Use the tape measure and pencil to mark 24, 48, 56, 64, 72, 80, 85, 90, 95, 100, 105, 110 and 115 inches from the end of the PVC. Wrap electrical tape around the PVC with the edge of the tape lined up with the pencil mark. Cut the PVC with the hand saw along the edge of the tape on the pencil marks to produce 14 sections--two 24 inch, four 8 inch and eight 5 inch sections.
Step 2
Apply the primer and glue to the elbow joints and "T" joints. The 8 inch sections serve as the legs, 24 inch sections are the top arms and the 5 inch sections provide the base. Connect an elbow joint to the top of the legs to connect the arms and a "T" joint at the bottom to attach two 5 inch base sections. Primer and glue the end caps onto the 5 inch sections to close the PVC. The bases and arms will be perpendicular with each other while the legs will be vertical.
Step 3
Run sandpaper over the arms and any corners or edges. Factory PVC can be very slick, making it difficult to grasp while working out with sweaty hands. The sandpaper will rough up the surface to hold gymnastics chalk for improved grip. You can also wrap athletic tape around the parallel bar arms if you desire to have a taped grip. Consider alternating sections of athletic tape and regular PVC to accommodate different athletes.
Things You'll Need
10 feet of PVC pipe, 1-1/2 in.

Tape measure

Pencil

Electrical tape

Hand saw

PVC primer and cement

4 elbow joints

4 "T" joints

8 End caps

Sandpaper

Athletic tape
Tips
Take your time during the process to ensure proper and quality construction. Paint the parallel bars to match the colors of your gym.
Warning
Test the durability and construction of the parallel bars before allowing clients to use.
Is This an Emergency?
If you are experiencing serious medical symptoms, seek emergency treatment immediately.