The urethra is part of your urinary system, along with your kidneys, ureters and bladder. The urethra is positioned at the end of your urinary system where fluid is excreted from your body. The urethra differs in length between men and women, and pain can be caused by several conditions. See your doctor for an accurate diagnosis if you have urethra pain.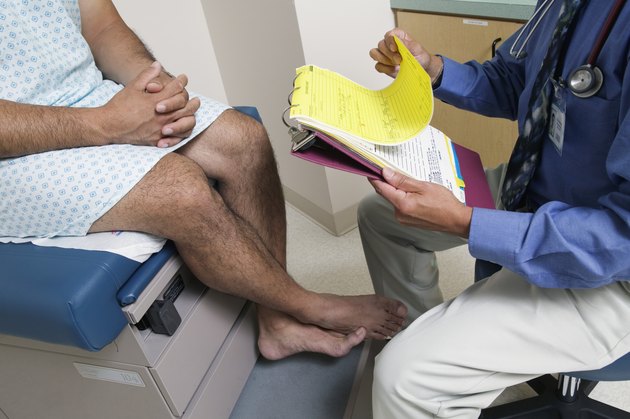 Inflammation and Swelling
Inflammation and swelling can cause urethra pain. Urethritis is a general term that describes all types of urethra inflammation. Common causes of urethritis include bacterial and viral infections. Risk for urethritis increases with high-risk sexual behavior, history of sexually transmitted diseases, numerous sexual partners, males between the ages 20 and 35, and young women in their reproductive years. Common signs and symptoms of urethritis in men include burning pain with urination, blood in the urine, penile discharge and pain with ejaculation. Common signs and symptoms in women include burning pain with urination, abdominal pain, pelvic pain and vaginal discharge.
Sexually Transmitted Diseases
Sexually transmitted diseases -- including chlamydia and gonorrhea -- often cause urethra pain. Chlamydia is the most commonly reported bacterial sexually transmitted infection among Americans. These conditions, which are curable, can lead to serious health complications, including epididymitis in men and pelvic inflammatory disease and infertility in women, if left untreated. Other signs and symptoms of these diseases include mucus or pus discharge from the vagina or penis, and pain with urination.
Kidney Stones
Kidney stones can cause urethra pain. Kidney stones are solid masses comprised of salts and minerals in the urine. Many kidney stones pass through the urinary tract without causing pain, although a larger stone can become lodged in a ureter, bladder or urethra. Obstruction of urinary flow at any of these points can cause excruciating pain. Medical intervention or surgery may be required to treat large kidney stones.