Hammertoes are the result of birth defect, ill fitting shoes or pressure from bunions. Children's hammertoes are treated to effectively remove pressure and prevent future complications that could arise such as nerve damage. It is important to consult your pediatrician for treatment options when severe hammertoe is present. In cases of severe hammertoe, surgery is your only option. Mild to moderate hammertoe can be treated at home and with the help of a podiatrist or pediatrician.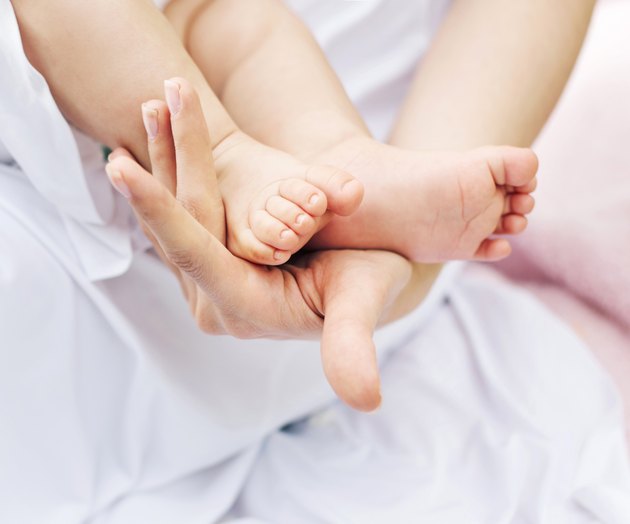 Step 1
Buy your child well fitted shoes with plenty of room for growth. According to the New York Times, shoes with a wide, boxed toe and that are the right size for his foot will alleviate pressure. This in turn provides enough room for your child's toes to spread out, avoiding crowding.
Step 2
Help your child stretch her toe muscles several times throughout the day to loosen tight ligaments and muscles, suggests MayoClinic.com. Grasp her toes with your hand and gently pull them back towards her ankle. Make sure that you do not stretch them too far, as this can cause discomfort or injury.
Step 3
Assist your child in picking marbles up from the floor with his toes. According to MayoClinic.com, this will help strengthen his toes and correct hammertoe situations. Placing a few marbles on the floor, instruct your child to grasp one marble at a time with his toes. You could make a game out of this for younger children by seeing who can pick up the most marbles in a set time limit.
Step 4
Place a splint on your child's foot during the day, suggests the New York Times. A splint will keep her toe in a straightened position and protect it from pressure and unnecessary movement. Splints are available at your local pharmacy.
Step 5
Apply an over-the-counter corn pad or felt pad to the "knuckle" of your child's toe. This will eliminate pressure and help ease pain from friction with her shoes, according to the New York Times.
Things You'll Need
Fitted shoes

Marbles

Splint

Corn pads or felt pads