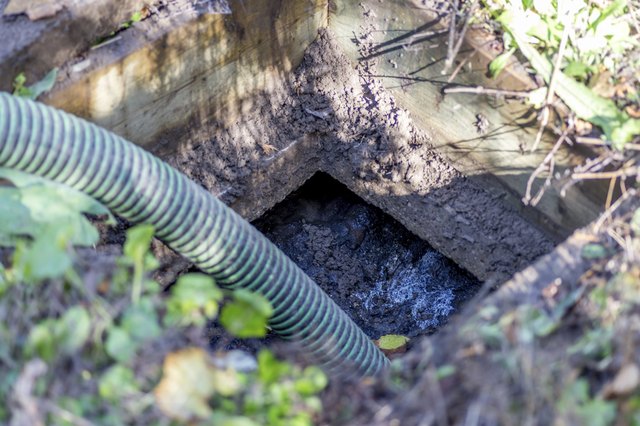 Some homes use septic systems instead of being connected to a city sewer system. Septic systems include a tank that stores the waste from your home. Bacteria within the tank break the contents down, partially treating them, and some of the resulting components transfer through a pipe to a drain field or leach field. This presents problems if you wish to grow a home orchard: Your fruit trees can potentially destroy the septic lines, and the fruit can pick up bacterial contamination from the system.
Problems
Fruit trees near septic lines mean tree roots will grow outward and eventually encounter the lines or the drain field. The roots can push, break through and otherwise disturb the lines and the septic tank, damaging them and resulting in expensive, smelly leaks and a malfunctioning home waste removal system.
Types
Any fruit tree planted near a septic system creates the risk that the roots will damage the lines. Some trees, though, are more prone to crawling toward the nutrients a leaky septic system offers, or they have extensive root systems. The riskiest trees are generally trees with no edible fruit, such as willow and cypress. According to Inspectapedia, walnut trees also have aggressive root systems that can interfere with septic systems and drain fields. Walnuts are often botanically classed as drupe fruits, similar to peaches and plums, because of what Palomar College calls "their outer, green, fleshy husk and stony, seed-bearing endocarp."
Contaminants
A more insidious problem when you have a fruit tree planted near a septic system is that contaminants from a leaky system or from the drain field itself can contaminate the fruit, making it unsafe to eat. Inspectapedia notes that the contamination occurs through routes such as irrigation with untreated waste water or surface contamination during handling and harvest. General uptake from contaminated soil is a possibility, too. Pathogens that can transfer from septic systems to fruit trees include Escherichia coli and Enterobacter spp.
Prevention
Distance is key when planning the area for planting fruit trees. Inspectapedia recommends planting trees at least as far away from a septic system as the maximum height of the mature tree. However, the nutrients from the septic leakage could influence tree roots to grow farther than you'd expect. To get around this, add 25 percent more distance. North Dakota State University suggests installing a root barrier to keep the roots separated from the septic lines, and this is something you need to consult tree and septic professionals about.
Solutions
Should you determine that a fruit tree is too close to a septic system or drain field, removing the tree may be the best solution, rather than waiting to see how much damage it might do. Septic repair is expensive, messy and smelly. Oregon State University Extension recommends contacting both an arborist and a septic system company to evaluate the risk a particular tree presents to your system. If damage is already occurring and tree roots have gotten into the septic lines, copper sulfate added to the system will kill invading tree roots. Speak with a septic system company anyway, because after killing the roots, you'll have to figure out how to fix the damage and handle the tree.