Eye exercises are somewhat controversial and may even offer false hope for eye conditions such as glaucoma and cataracts. Double vision, however, may be improved with eye exercises. An issue such as convergence insufficiency or a palsy of the third or fourth cranial nerves, or diplopia may all lead to double vision. Eye exercises can help in these cases.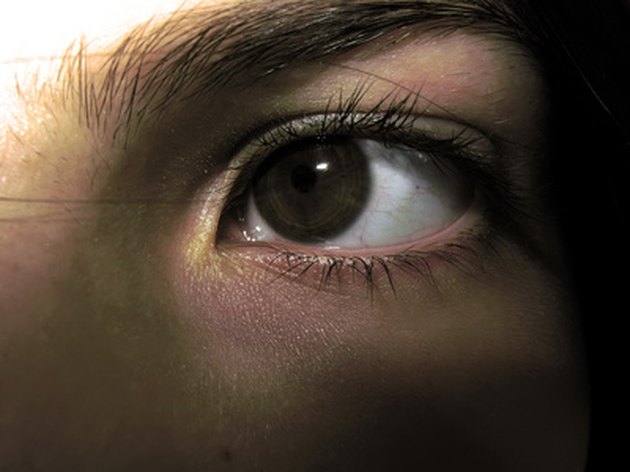 Pencil Push-Up Therapy
Pencil push-up therapy is commonly advised for convergence insufficiency. This condition can make reading difficult and is especially damaging for children who may have a hard time learning in school due to an inability to see words clearly. Pencil push-ups are easy to do, require little upper body strength and are a valuable part of a home eye exercise program. To do pencil push-ups, sit down with your favorite pencil handy. Hold the pencil in front of your face at a distance that you can clearly see the letters written on the side of the pencil. Slowly move the pencil toward your nose. Your goal is to choose one letter on the pencil and keep it in focus as you bring the pencil toward you. If the letter blurs or you see more than one, move the pencil further away. This exercise improves the ability of your eyes to cross and moves inwards, a common problem for people who experience double vision.
Swinging
The third, fourth, fifth and sixth cranial nerves control eye movement. When the third nerve is damage, the affected eye moves outwards when the healthy eye looks forward. This causes double vision. When the fourth nerve suffers and injury, the affected eye cannot is unable to look down and inward. This also causes double vision. Tilting the head to one side can help, but so can eye exercises that encourage the eyes to move in the ways that are difficult for them. An eye exercise called swinging may help because the eyes must move side to side as you tilt side to side to keep an object in focus. To do swinging, stand up and choose an object that is far away to stare at. Then, gently sway side to side and keep the object in focus as best as you can. Make sure you blink during the exercise.
Eye Rolling
It's possible that someone at one point in your life has told you that rolling your eyes is rude. Whether that is true or not, eye rolling is an eye exercise. Rolling your eyes in both directions may coordinate your eye movements and get your eyes to move inwards, downwards and in every direction you need them to go. To do this exercise, sit down and look straight ahead. Roll your eyes clockwise. Then, roll them back counterclockwise and blink. Perform the desired number of repetitions.