Each breast contains tissue rich in nerve endings, each of which send feedback to the brain in response to changes in temperature, pain or touch. Tingling in the breast can occur when nerves in the breast become damaged, leading to a "pins and needles" feeling that can eventually lead to numbness. Certain nerve disorders can cause this nerve damage.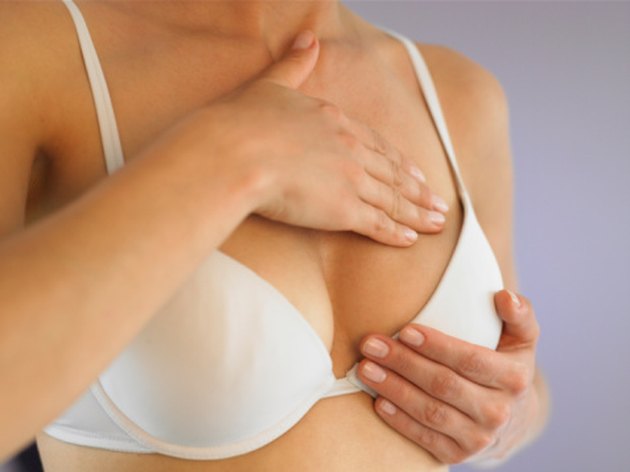 Pregnancy
A tingling breast can represent an early symptom of pregnancy. At the onset of pregnancy, women experience a change in female hormone levels, including estrogen and progesterone. One function of these hormones in early pregnancy is signaling to breast cells, causing breast growth and development in preparation for lactation. This rapid onset of breast growth can lead to tingling in the breast and nipple, as the breast adapts to the presence of new glandular tissue, according to Ohio State University Medical Center. Over time, the tingling associated with breast growth will subside as the breasts adjust to their new size and shape.
Breast Surgery
Women may develop a tingling sensation in their breast after breast surgery, such as cosmetic breast augmentation, breast reduction or breast cancer surgery. During surgery, doctors may damage or sever the nerves in or around the breast, leading to decreased sensation after recovery. Additionally, surgery can increase inflammation and aggravate the nerves around the breast, further causing breast tingling, according to the American Cancer Society. The tingling may also extend to the chest wall or in toward the arm pit, depending on the tissues affected by the surgery. Nerve damage is typically slow to heal, and tinging may persist for weeks or months after surgery.
Paget's Disease
Tingling in the breast can indicate an underlying disease. Some forms of cancer, such as Paget's disease, can lead to tingling breasts or tingling in the nipple. Paget's disease is a rare but aggressive form of breast cancer that affects the nipple. Patients with the disease develop dry, scaly skin on the nipple, as well as irritation and burning of the affected breast, according to the National Cancer Society. Allowed to develop, the advanced form of the disease can lead to nipple tingling, itching and burning. Women with breast tingling unexplained by pregnancy should seek medical attention to address the possibility of an underlying disease, since early diagnosis of breast cancer aids in effective treatment.