If the term "man boobs" comes to mind when you look down at your chest, you're most likely not a happy camper. Although the pecs or pectoral muscles are often associated with men, excess fat in the chest area can affect both genders. To get rid of it, a full-body approach is required, because you can't pick and choose what areas you want to lose fat from. When your overall body fat reduces, so will that annoying pec fat.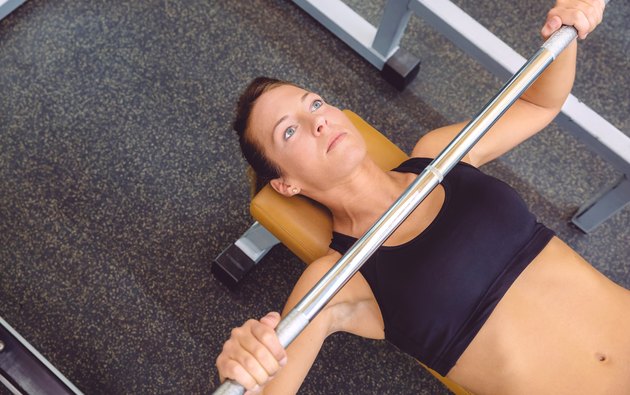 Sweat and Burn Calories
Moderate cardiovascular exercise should be on your schedule most days of the week. The Centers for Disease Control and Prevention recommends working up a sweat for 300 minutes per week for optimal weight loss. Cardio burns calories and reduces fat, including excess chest fat. Walking briskly and bicycling are good forms of cardio, as is chest-intensive cardio, such as swimming, rowing, a game of tennis, or using an elliptical machine with moving arms.
Build Muscle, Boost Metabolism
Prioritize strength training on at least two days of the week. In addition to strengthening and defining your muscles, strength training boosts your resting metabolic rate so you burn fat even when you're sleeping. For optimal results, work all your major muscle groups and include barbell bench presses, butterflies in a pec deck machine, and bent-forward cable crossovers, as these are some of the most effective chest exercises, according to a study sponsored by the American Council on Exercise.
Makeover Your Diet
Although exercise can help you burn fat, if you're eating unhealthy and consume too many calories, you'll never see results. You have to adjust your diet to contribute to your efforts. It takes a daily deficit of 500 calories to lose one pound in a week. Avoid sugar, cholesterol, salt, and saturated and trans fats. Focus on low-fat or non-fat dairy, lean protein, whole grains, and veggies and fruits. Opt for low-calorie foods instead of high-calorie foods, and eat smaller portions to reduce your caloric intake. Read food labels to determine nutritional contents and keep a food journal so you can monitor yourself.
Things to Consider
By losing fat and strengthening your pectoral muscles, your chest should appear strong and toned. In women, this toning effect might result in a larger chest size and more support of the breasts. The actual cup size won't increase, and because of the fat reduction, it might actually seem a little smaller. By maintaining good posture and pulling your shoulders back and down you can enhance the appearance of your breasts. Before starting a new diet or exercise routine, see your doctor, especially if you have a health condition or injury.