The male breast is composed of a mixture of tissue types, any of which may give rise to a mass or swelling. Cancerous breast tumors in men are rare but do occur. Men can also develop noncancerous breast disorders, causing breast lumps. The characteristics of a lump and a man's age are important criteria in evaluating any breast mass.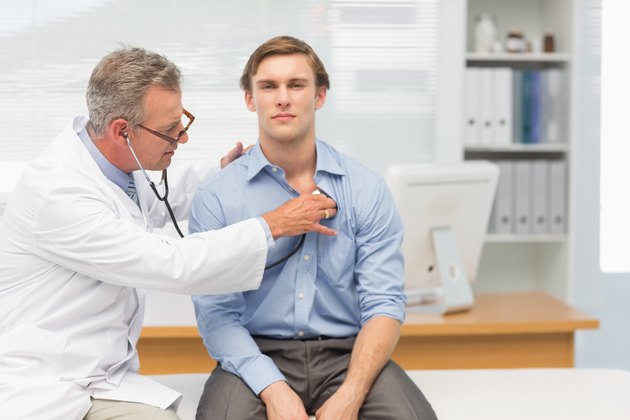 Male Breast Anatomy
The male breast consists mostly of fat and fibrous tissue covered by skin. An interconnecting system of breast ducts with lining epithelial cells extends through this tissue to the nipple. Normal male breast tissue does not include lobules, which are responsible for milk production in the female. Small lymph nodes may occasionally be present, most often in the outer portion of the breast near the underarm.
Gynecomastia
Gynecomastia is a noncancerous disorder characterized by increased breast tissue in a male. It is the most common type of breast growth in men. Gynecomastia appears as a swelling or lump in one or both breasts, is generally centrally located and may be tender. The lump is formed by a proliferation of breast ducts and fibrous tissue. Gynecomastia usually occurs around the age of puberty or in older men, and is associated with hormonal or medication effects. Men with gynecomastia sometimes have an underlying medical problem, such as cirrhosis of the liver, chronic kidney disease, an over- or under-active thyroid, or a testicular tumor.
Breast Cancer
Breast cancer in men is uncommon, making up less than 1 percent of all breast cancers, according to the National Cancer Institute. It occurs most often between the ages of 60 and 70, but may appear at any age. Typically, breast cancer in men presents as a hard painless lump, often under the nipple. Overlying skin discoloration or puckering, or nipple changes may be present. Almost all cancers arise from the ductal component of the breast. Treatment is similar to that for female breast cancer.
Other Breast Lumps
Although rare, simple fluid-filled cysts or fibroadenomas of the male breast may occur. Fibroadenomas are noncancerous growths that typically feel soft or rubbery rather than hard. Cysts may be tender. Both of these conditions tend to be easily movable within the surrounding breast tissue. Other noncancerous growths of the male breast can occur but are also rare.
Miscellaneous Lumps
The surrounding tissues of the male breast can give rise to a variety of lumps. Skin cysts, or tumors, inflammatory masses or abscesses -- pockets of infection -- may present as breast lumps. Fatty or fibrous tumors may arise in the soft tissue of the breast. Enlarged lymph nodes may also develop either in response to inflammatory conditions or cancer.
Evaluation
Men with any persistent breast lump or swelling should consult their doctor. A man's age, medical history and an examination of the breasts are important initial factors in the evaluation. Additional tests may be recommended, such as a mammogram and breast ultrasound. A needle aspiration or biopsy may be necessary to further characterize a lump and reach a final diagnosis.
Reviewed by: Tina M. St. John, M.D.