According to Organic Facts, tea tree oil, which is botanically known as Melaleuca alternifolia, is a highly distilled plant material. It is native to Australia and a member of the myrtle family. It has antiseptic and antimicrobial properties and has been used to treat acne and other skin conditions. It is also a cicatrisant, which means it can help lessen spots or scars left by acne, boils or other skin conditions. If you are concerned about the health of your skin, you may want to contact your physician. The FDA has not proven essential oils to be effective for treating skin disorders.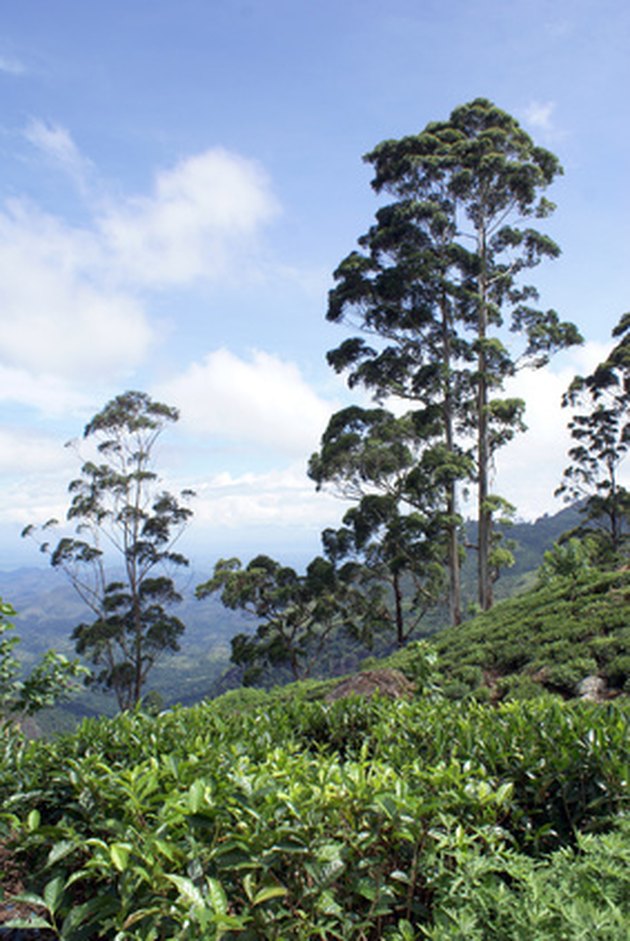 Step 1
Add 10 to 20 drops of the tea tree oil to the bottle of jojoba oil. According to Acne.org, jojoba oil is beneficial to the skin and reduces oil production. Shake the bottle in a circular motion for several minutes until the oils are mixed.
Step 2
Wash your face with a mild facial cleanser. Pat dry. Take a cotton swab and dip it into the oil and apply it to age spots. Let it sit on your skin for several minutes.
Step 3
Wipe off the tea tree oil blend off of your skin. Apply your favorite moisturizer to your face.
Things You'll Need
Tea tree oil

4 oz. jojoba oil

Mild facial cleanser

Cotton swab

Moisturizer
Tips
Because tea tree oil is a highly concentrated plant material in its pure form, you will need to use a carrier oil such as jojoba. You can also look for commercial facial products made with tea tree oil specifically designed for age spots. Facial cleansers often contain tea tree oil because of its antiseptic properties. Organic Facts states that tea tree oil blends well with lavender essential oil, which is also nourishing for the skin. Tea tree oil may also relieve muscular aches and pains, so rub the oil blend on your body in areas of tension.
Warning
Do not to touch the rim of the tea tree oil bottle, because this may transfer bacteria into the bottle and can contaminate it. Never drop the tea tree oil on the surface of your skin as skin irritation or allergic reactions may occur.
Is This an Emergency?
If you are experiencing serious medical symptoms, seek emergency treatment immediately.