Sinus infections, or sinusitis, develop when viruses or bacteria invade the cavities behind the nose. Middle ear infections, or otitis media, occur when organisms infect the fluid behind the eardrum. Doctors often prescribe amoxicillin, a penicillin-like antibiotic, for ear infections or sinusitis. In other situations, physicians may opt to order Augmentin, a combination drug containing both amoxicillin and clavulanate, according to the Daily Med website.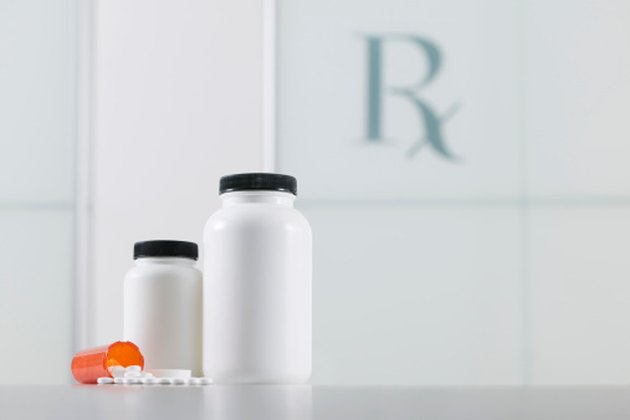 Features
Some bacteria produce a substance known as beta-lactamase that makes antibiotics like amoxicillin less effective. The clavulanate present in Augmentin inhibits the effect of beta-lactamase and gives amoxicillin a chance to do its job, notes the Daily Med website.
Function
Amoxicillin works well against many of the bacteria that cause sinus and ear infections, especially alpha- and beta-hemolytic strains of streptococcus, Streptococcus pneumoniae, certain strains of staphylococcus and Haemophilus influenzae. Doctors may be prescribe Augmentin for sinus or ear infections that they believe are caused by beta-lactamase-producing strains of H. influenzae and M. catarrhalis, states the Daily Med website.
Indications
Many sinus and middle ear infections are caused by viruses, which aren't affected by antibiotics. Typically, amoxicillin or Augmentin are used for sinusitis only when individuals have severe, persistent or recurrent bacterial infections, according to MayoClinic.com. Antibiotics are appropriate when doctors definitively diagnose middle ear infections that cause either moderate to severe ear pain or a fever above 102.2 degrees Fahrenheit, states MayoClinic.com.
Contraindications
Doctors don't prescribe amoxicillin or Augmentin if they suspect sinusitis or otitis media is caused by a virus. In addition, these drugs aren't effective against methicillin-resistant staph aureus, or MRSA, a particularly resistant bacteria.
Dosage
For mild to moderate sinusitis or otitis media in adults, doctors prescribe 500 mg of amoxicillin every 12 hours or 250 mg three times a day, states RxList.com. Severe infections require 875 mg of amoxicillin every 12 hours or 500 mg three times a day. Children need 25 mg/kg/day in two divided doses or 20 mg/kg/day given in three equal doses over a 24-hour period for mild to moderate infection. For severe infections in children, the recommended dose is 45 mg/kg/day in two doses or 40 mg/kg/day in three doses.
Tips
Amoxicillin and Augmentin come in pediatric drops, oral suspensions, chewable tablets and regular tablets. Patients or their parents should request the appropriate dosage form from the prescribing doctor during their office visits.
Warnings
As penicillin-like drugs, amoxicillin and Augmentin can trigger life-threatening allergic reactions called anaphylaxis. It's critical to obtain emergency medical care for severe itching, hives, respiratory problems, difficulty swallowing or facial swelling that develop during the course of antibiotic treatment for sinusitis or otitis.