Bing cherries are the most popular sweet cherry variety produced in the United States, according to Oregon State University. The skin of this sweet cherry is a deep burgundy -- almost black -- color. Other black, sweet cherry varieties include Sam, Schmidt, Ulster, Vista, Black Republican and Black Tartarian. The recommended serving size of fresh black cherries is 12, according to Harvard University. Sweet cherries are low in calories and provide fiber, vitamin C, minerals and melatonin to your diet.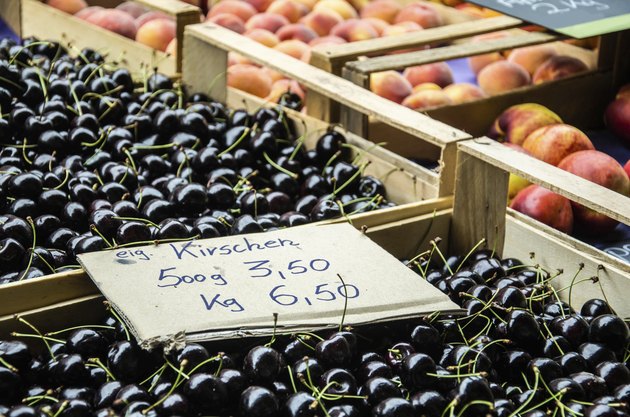 Fat and Calories
A serving of sweet cherries has no cholesterol and negligible amounts of fat. Eating 12 fresh, sweet cherries adds 62 calories to your diet. Munching on cherries can help you follow the American Heart Association's recommendation of limiting your fat and cholesterol intake to help prevent cardiovascular disease.
Fiber and Carbohydrates
Your body doesn't digest fiber, so it doesn't affect your blood sugar levels but passes through your digestive system. In this way, fiber helps regulate your blood sugar and suppresses hunger. A serving of cherries provides 2.1 grams of fiber, almost 6 percent of the daily recommended intake of 38 grams. Carbohydrates also affect blood sugar, since your body breaks them down into sugars, which cause insulin production. Eating 12 sweet cherries supplies almost 16 grams of carbohydrates to your diet, about 12 percent of the daily recommended allowance of 130 grams.
Alzheimer's Disease Prevention
The antioxidants and flavonoids, such as anthocyanins, quercetin and hydroxycinnamates in sweet cherries, may help prevent Alzheimer's disease, according to a study in the a 2011 issue of "Critical Reviews in Food Science Nutrition." Due to their anti-inflammatory abilities, flavonoids may prevent cognitive problems and dementia related to aging, according to the Linus Pauling Institute.
More Disease-Fighting Factors
Eating about 45 Bing cherries daily can reduce symptoms of arthritis, heart disease and diabetes and help lower blood pressure, according to a study published in the January 2013 issue of "The Journal of Nutrition." The study results showed that cherries help with blood circulation levels that can cause inflammatory diseases. Cherries also help prevent insomnia by providing the antioxidant melatonin, which normalizes heart rhythm and controls sleep cycles.