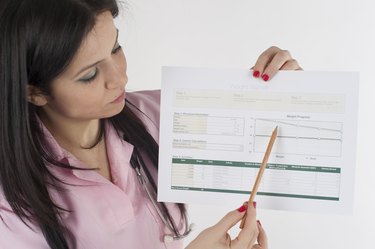 Florida requires that all nutritionists obtain licensure. Obtaining a license to work as a nutritionist, who is also referred to as a dietitian, is a long road that requires a great deal of coursework. However, once you have successfully accomplished your goal of becoming a licensed nutritionist, "Careers in Nutrition," mentions that career opportunities are plentiful in areas of health care that include pediatric, adolescent, maternal, geriatric and sports nutrition. Licensed nutritionists can work in a variety of settings, according to "Opportunities in Nutrition Careers," including community health clinics, hospitals and private practice.
Step 1
Earn a bachelor's degree in dietetics, human nutrition, food management or food and nutrition from an accredited college or university. According to the Florida Department of Health, you must possess a bachelor's degree in one of these fields to be eligible for licensure as a nutritionist.
Step 2
Participate in at least 900 hours of a supervised internship. The Florida Department of Health requires that the internship consist of at least 200 hours in clinical nutrition, 200 hours in food service management and 200 hours in community nutrition.
Step 3
Pass the Registration Examination for Dietitians, which is administered by the Commission on Dietetic Registration. The exam will test you on a variety of nutrition-related topics, including food and nutrition sciences, diagnosis and monitoring of nutrition problems, nutrition screening, assessment and nutrition counseling and education.
Step 4
Complete the application for licensure as a nutritionist in Florida. See resource 1 for more information.
Step 5
Mail the completed application for licensure, a passport photo of yourself, transcripts and required fees to the Florida Department of Health/Dietetics and Nutrition.
Department of Health/Dietetics and Nutrition P. O. Box 6330 Tallahassee, FL 32314-6330 www.doh.state.fl.us