When the weather warms, it's time to slip into your bikini and enjoy long days at the pool or beach. Getting ready for bathing-suit season isn't always painless, though. When you shave the sensitive skin around your bikini line, a bumpy rash can develop. To fix it, soothe your skin with products that ease inflammation. After your skin heals, learn how to shave the bikini area properly so razor burn doesn't happen again.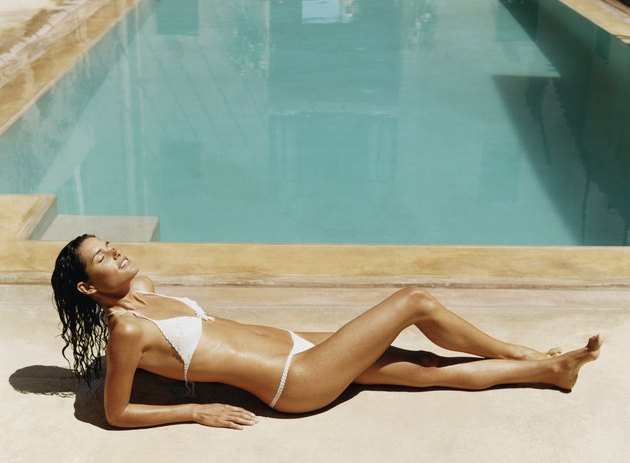 Treat Razor Bumps
If white or red bumps develop after shaving your bikini area, you probably have a case of razor burn. To treat it, lightly dab the affected skin with witch hazel once a day. Witch hazel soothes irritated skin and speeds up healing. Next, gently rub a small amount of hydrocortisone cream into the area. The cream cuts down on itching and swelling. An aloe-based cream will also work. Avoid wearing tight-fitting pants or underwear -- the garments will rub against skin, making the problem worse.
Tips for Shaving the Bikini Area
Razor burn develops when hair gets pushed back into the follicle. The skin then gets inflamed, and ingrown hairs may develop. To prevent this, treat skin with a moisturizer containing glycolic or alpha-hydroxy acid the night before shaving. Use a clean, sharp razor every time you shave. Wet the area thoroughly before shaving -- never shave dry skin. Opt for a shaving gel instead of a cream, which can clog pores. When you shave, lightly pull the razor across skin in the direction of the hair growth. Do not push down very hard -- a sharp razor blade will slice through hair with little effort. Apply some witch hazel and moisturizer when you're done.