The doner kebab, a Turkish dish made with lamb meat and served in pita bread, is a popular late-night snack for pub-goers in the United Kingdom. These salty treats pack a high-calorie punch. A 2006 council survey, coordinated by the local council body, LACORS, tested 490 kebabs from around the U.K. to determine their calorie, fat and salt contents. Use an online calorie counter to find out more about the nutritional breakdown of doner kebabs.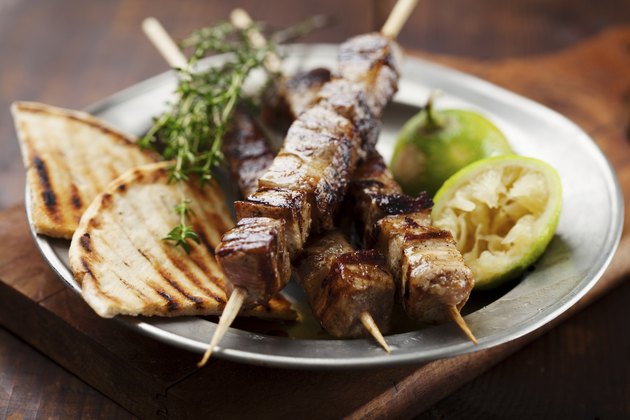 Calories
Some examples of doner kebabs tested by LACORS contained 1,990 calories, 70 grams of fat and 16.5 grams of sodium, according to a January 2009 article on the Guardian website. Several other kebabs in the survey contained more than 1,000 calories.
Regional Differences
According to the same 2006 survey, but reported in January 2009 by BBC News, the average doner kebab in northwest England contains 1,101 calories, while southeast England's average doner kebab contains 1,066 calories. Northern Ireland's doner kebabs contain fewer calories than England's, with only 843 calories on average. Scotland's average doner kebab has 1,084 calories, and the average kebab in Wales has 1,055 calories.
Extras
The LACORS survey calorie counts do not include extras such as salads, mayonnaise or French fries.