Love handles, muffin top: whatever you call lower back fat, chances are good you want to get rid of it. Spot reduction doesn't work and may slow down your results, so don't put the spotlight on your back. Rather, take a three-pronged approach, focusing on diet, cardio and strength training to drop pounds and tone up. Add lower back exercises to your strength training routine -- the toning will become more visible after total body weight loss occurs. Consult with your doctor before starting an exercise program or changing your diet.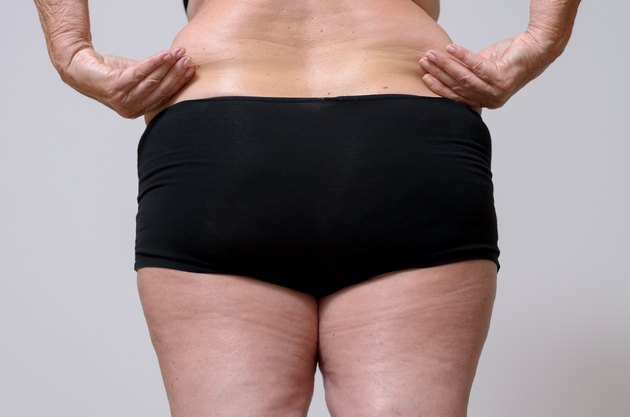 Choose Your Foods Wisely
Step 1
Lose weight by eating less calories than you expend. Realistic goals, such as cutting back on 250 to 500 calories a day, are more attainable than trying to lose a lot of weight through a fad diet. Aim for a healthy weight loss of 1 to 2 pounds a week.
Step 2
Eat lean sources of protein, healthy fats, fruits, vegetables and complex carbohydrates. Consume empty calories, such as candy, pizza and chips, in moderation, limiting daily intake to about 250 calories at most. Empty calories don't provide nutrients and typically contain sugar and fat, two ingredients that can slow weight loss.
Step 3
Be mindful about your eating habits and make small changes. Reducing your portion sizes, turning off the TV while you eat and finding ways to be social without eating out or drinking, are all behavioral modifications that increase your awareness of your food intake.
Move It
Step 1
Do either 150 minutes of moderately intense cardio or 75 minutes of vigorously intense cardio each week. Determine your intensity with a quick test: if you can talk, but not sing, rate your exercise as moderately intense. The exercise is vigorously intense if you can only say a few words without losing your breath.
Step 2
Increase your exercise to 300 minutes a week for better and faster results.
Step 3
Strengthen and tone your muscles two or three times a week. Do 8 to 10 exercises, challenging all the major muscle groups in the body: your back, arms, shoulders, chest, core and lower body. Include exercises for your lower back.
Walk it Out
Step 1
Do this exercise to tone your back and stomach muscles. Kneel behind an exercise ball. Roll onto the ball and place your hands on the floor in front of you.
Step 2
Tighten your abdominal muscles and walk your hands forward. Keep your back straight and hips up as you walk forward. Pause when only your knees, shins and feet are on the ball. Hold for 30 to 60 seconds.
Step 3
Increase intensity by walking your hands further, stopping when only your feet remain on the ball. Don't go as far if you can't keep your lower back or hips up in this position.
Build Your Back
Step 1
Do the stability ball bridge to tone your lower back, abs and glutes. Lie on your back, lift your legs off the floor and place a stability ball under your knees.
Other lower back exercises are available at a gym: a lower back machine in which you seated and you lean back against resistance, and a variation of the Roman Chair apparatus in which you are elevated and prone, and you raise your upper torso against gravity resistance. However, don't limit your strength training to the lower back.
Step 2
Tighten your abdominal muscles and place your feet on the ball. Push through your heels and lift your hips off the floor. Make a straight line with your knees, hips and shoulders. Hold for 30 to 60 seconds, stopping when your muscles fatigue.
Step 3
Hold a weighted ball on your stomach to increase intensity.