Bloating is often the result of gas that's trapped somewhere along the digestive tract, particularly within the stomach and intestines. For many people, including men over 40, this can lead to a feeling of fullness or tightness along the abdomen. It may also cause gas and gas pains. To get rid of belly bloat and its uncomfortable symptoms, a number of lifestyle changes are usually of benefit.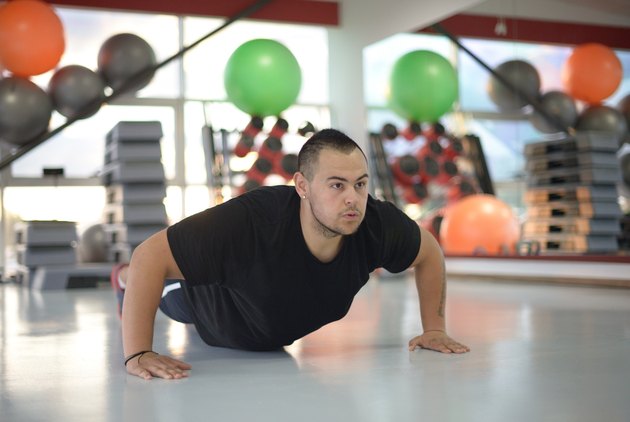 Step 1
Steer clear of gas-forming foods. Certain foods contain sugars that can be difficult to digest for some people. The most common culprits are legumes, such as baked beans, lima beans and lentil. You may also find that dairy products as well as certain vegetables and fruits, such as broccoli, cauliflower, cabbage, brussels sprouts, turnips, apples, pears and peaches, are all problematic.
Step 2
Avoid fried foods whenever possible. Fried foods are relatively high in fat, which actually slows the rate in which your stomach empties and subsequently increases the feeling of fullness or tightness in the abdomen, notes MayoClinic.com.
Step 3
Slow down when eating. Heightened consumption can lead to an increase in swallowed air. The swallowed air becomes trapped and leads to belly bloat.
Step 4
Pay close attention to the amount of food you're eating at meals. Overeating is known to cause bloating in some people. Limiting your intake of food could help reduce the amount of intestinal gas.
Step 5
Work toward losing excess weight, which could place pressure on the stomach, causing stomach acids to flow back into your esophagus. When this occurs, it can lead to gastroesophageal reflux disease (GERD). The bloating you're experiencing could be an indication of GERD.
Step 6
Exercise most days of the week. Regular physical activity not only can help you to lose weight, thereby improving GERD and bloating, but it also reduces stress, which can be contributing to irritable bowel syndrome, another condition known to cause bloating.
Step 7
Stop chewing gum. Like eating too quickly, chewing gum can cause you to swallow air and contribute to excess intestinal gas.
Tip
Talk to your doctor to help you determine the exact cause of the intestinal gas, especially when lifestyle changes fail to improve bloating. Medications may be necessary to improve a digestive condition and thereby reduce bloating and intestinal gas.